Blog
The Autumn season is just around the corner! Autumn in the San Francisco Bay Area is a fascinating time in our natural world. Unlike other places in the U.S., autumn tends to be the warmest time of year – particularly in San Francisco and along the coast in Half Moon Bay and Pescadero. But what's behind this surprising weather pattern?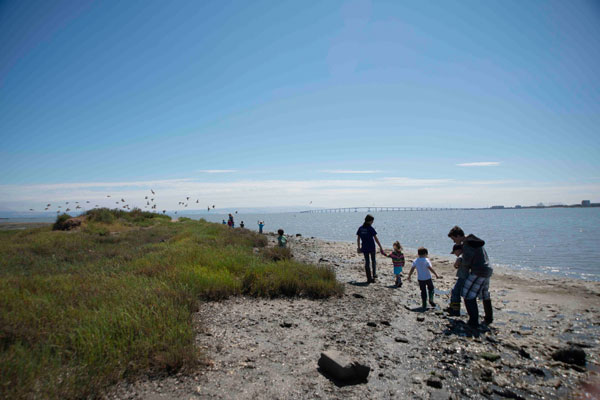 (photo: Paul Lei)
During the summer, heat from the Central Valley pulls air inland from the ocean. When the warm, moist air blows from the central Pacific Ocean across the cold waters of the California Current, a cool, moist wind – known as fog – is formed.
In autumn, the jet stream over the Pacific Ocean shifts south with the sun, and the strong winds and sea breeze dissipates. The Central Valley is no longer hot enough to suck drafts in through the Golden Gate and other gaps in the Coast Range the way it could in mid-summer. The temperature difference between the land and sea decreases so much that the "push-pull" effect that creates the winds and fog no longer takes place.
As onshore winds die down, the upswelling of cold bottom waters that helps to create fog slows to a stop. The massive fog bank that was present in the summer shrinks to almost nothing.
The weather warming trend is a telling signal of autumn in many parts of the Bay Area. At CuriOdyssey, one sign of fall is the winds that typically whip through Coyote Point Park tend to die down. They fall below their 15-25 mph averages in the summer, and temperatures increase slightly.
So we want to know – what are your signals for autumn in the Bay Area? Share them in the comments section; we'd love to know!
What signals autumn for the CuriOdyssey Staff:
"The leaves here don't change color very much in autumn, but the birds definitely do. Many birds transition from their fancy nuptial plumage to more sedate colors during this time. My favorites are the male mallards and their "eclipse plumage"– they don't actually disappear in the fall, they're just in disguise as females."
– Jeanne, Animal Keeper
"I've noticed that the staple sign of fall in the rest of the U.S., colorful leaves on the trees, really doesn't happen here until January."
– Abi, Director of Marketing
"Most people don't know it, but the Marin Headlands is a hub of the fall migration for many species of raptors. This migration is the most significant of its kind in the western United States, and it takes place over Hawk Hill in the southern Headlands."
– Jen, Animal Keeper
Source: Gilliam, Harold. Weather of the San Francisco Bay Region: University of California Press, 2002. Print.
Join the CuriOdyssey Community