Animals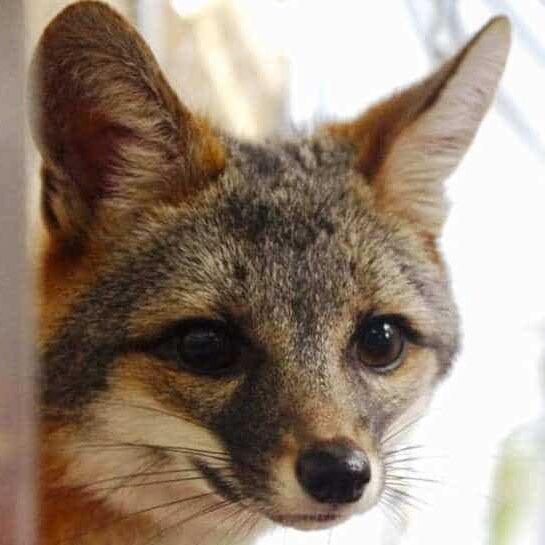 Latin Name
Urocyon cinereoargenteus
Gray Fox's History at CuriOdyssey
Our gray fox was found in the wild with a fractured tibia/fibula on his left leg. Due to the extensive damage to his leg he was considered non-releasable and was donated to CuriOdyssey in October 2013.
Fun Facts about Gray Foxes
Unlike other canids, gray foxes are agile climbers, and can even climb straight up a tree trunk!
Birth Date
April 2013
What do Gray Foxes eat?
In the wild, Gray Foxes eat almost any animal they can catch easily, including mice and other rodents, birds, frogs, insects, lizards, and rabbits; will also eat fruit and berries.
At CuriOdyssey, our Gray Fox have a diet of dog kibble, fruits, vegetables, mice/rats, quail/chick, chicken, rabbit, beef, and hard-boiled eggs.
How long do Gray Foxes live?
Gray Foxes can live up to 6 to 10 years in the wild. In captivity they live up to 15 years.
Where do Gray Foxes live?
Gray Foxes' habitat include brush country, forested areas, and rocky land, usually below 3000m elevation.
They range from North America to southern Canada to Venezuela and Colombia in northern South America
Are Gray Foxes endangered?
Foxes are protected in some states and have been reintroduced into Canada. However, people still trap foxes for their fur and will raise foxes on fur farms. The reintroduction of the red fox in California has negatively impacted the population of the gray fox.
Help provide for the care and feeding of our wildlife guests by sponsoring an animal of your choice for a year.
Join the CuriOdyssey Community