Get Involved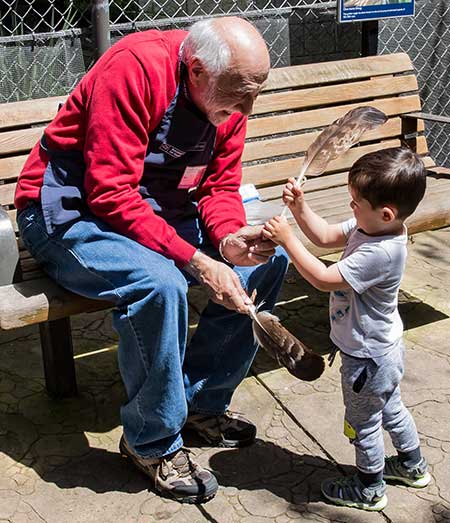 Volunteers are critical to our success.
Volunteers work with every department at CuriOdyssey from speaking to visitors about animals to leading activities to helping behind the scenes.
Volunteer safety is a priority
We are ensuring that full health and safety measures are in place to create a safe experience for volunteers as well as our guests, staff and animals.
How to volunteer
Application requirements for our Mentor and Community Science positions are listed below.
Future Volunteer Openings
Program and Wildlife Volunteers
Our volunteers help create an authentic, inquiry based, and immersive environment, while providing meaningful, robust, and personal learning experiences. We believe it's critical to engage children at a very young age, while their brains and skills of observation and inquiry are developing. Volunteers create meaningful and memorable experiences for visitors by interpreting CuriOdyssey's wildlife collection and engaging visitors with touchable biofacts, thus inspiring a love of animals and science and curiosity about the world to create a brighter future. 
Leadership Development Program
CuriOdyssey's Leadership Development Program is designed for high school youth in the San Francisco Bay Area to take charge of their STEM education and career exploration. This youth program will help participants develop leadership and critical thinking skills while providing them with opportunities to meet STEM professionals and college students pursuing STEM careers. They will learn the skills necessary to be stronger leaders in their community through activities, portfolio building, and gain experience working in an educational museum and zoo setting.
The Leadership Development Application will close on Friday, December 9 at 11:59 pm. Applicants will be contacted within two weeks regarding their application status.
Wildlife Aide
Wildlife Aides assist our professional Keepers to maintain healthy diets and clean, safe living environments for all of our animals. This position requires a minimum of 6 months' commitment. Longer than 6 months is greatly preferred. Volunteers who commit to extended hours may also take advantage of additional opportunities to become involved in animal enrichment and animal husbandry.
Wildlife Watcher
This program offers volunteers experience monitoring wildlife and provides exposure to animal welfare, conservation, and zoo careers. Data collected contributes to ongoing research on captive exotic animal welfare at CuriOdyssey.
Join the CuriOdyssey Community