Get Involved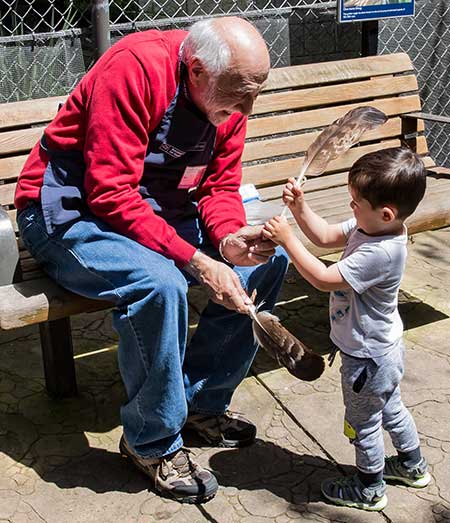 Volunteers are critical to our success.
Volunteers work with every department at CuriOdyssey from speaking to visitors about animals to leading activities to helping behind the scenes.
Volunteer safety is a priority
We are ensuring that full health and safety measures are in place to create a safe experience for volunteers as well as our guests, staff and animals.
How to volunteer
Application requirements for our Mentor and Community Science positions are listed below.
Future Volunteer Openings
Museum and Wildlife Volunteers
Our volunteers help create an authentic, inquiry based, and immersive environment, while providing meaningful, robust, and personal learning experiences. We believe it's critical to engage children at a very young age, while their brains and skills of observation and inquiry are developing. Volunteers create meaningful and memorable experiences for visitors by interpreting CuriOdyssey's wildlife collection and engaging visitors with touchable biofacts, thus inspiring a love of animals and science and curiosity about the world to create a brighter future. Application for Museum and Wildlife Volunteering is currently closed. Please check back frequently as positions will be filled as needed.
STEM Mentor
The STEM Mentor program seeks to enhance the resources available for BIPOC youth to pursue STEM learning in a safe space where they can connect with and be encouraged by supportive role models. Mentors are working STEM professionals who meet virtually with a 5th – 8th grade student twice each month during the academic year to explore STEM activities, provide academic support for STEM subjects and offer guidance to students looking ahead to a STEM career. 
For more information, visit https://stemcorps.curiodyssey.org
Join the CuriOdyssey Community