Get Involved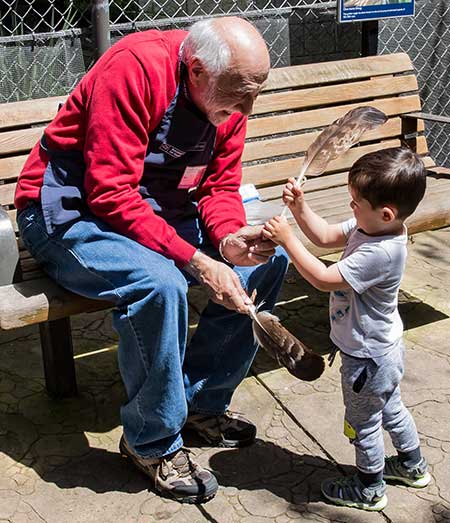 Volunteers are critical to our success.
Volunteers work with every department at CuriOdyssey from speaking to visitors about animals to leading activities to helping behind the scenes.
Volunteer safety is a priority
We have a limited number of openings for volunteers as we adapt our volunteer positions for our expanded outdoor visitor experiences. We are insuring that full health and safety measures are in place to create a safe experience for volunteers as well as our guests, staff and animals.
How to volunteer
Application requirements for our Mentor and Community Science positions are listed below. Otherwise, the first step is to complete our standard online volunteer application. We will review your application and save for future opportunities.
Volunteer Opportunities
STEM Mentor
Inspire the Next Generation of STEM Leaders
We are looking for caring BIPOC professionals who are passionate about their career in a STEM field to serve as mentors for BIPOC youth. As a STEM Mentor, you will be paired with a middle school student and meet virtually for two one-hour sessions each month during the academic year. This time together will give you the opportunity to explore STEM activities, listen and learn from each other's experiences, and offer academic support for STEM classes. APPLY BY JULY 31, 2021.
Read full description of STEM Mentor
Watch this short video presentation introducing you to the STEM Mentor program goals, requirements, application process and training. (YouTube)
---
Wildlife Interpretive Guides & Docents
Share your passion for animals and inspire children to love nature
Roving Wildlife Interpretive Guides and Wildlife Docents learn about our animal collection in order to engage visitors and help them observe and learn more about wildlife. Teens (13 –17) can volunteer when partnered with a parent/guardian. Minimum commitment: Two 2-hour shifts (weekends or weekday mornings) per month for at least one year. Weekly commitment strongly preferred. Training will be held in September and October, 2021.
To apply, complete Online Volunteer Application
---
Community Science Volunteer
Join CuriOdyssey as we support conservation and biodiversity research. Community science volunteers will use iNaturalist to take photographs of wild animals, plants and fungi at locations, times and durations of their choice, and then report their volunteer hours to CuriOdyssey using a simple online form. No application necessary. See Guide on how to get started.
For other volunteer inquiries, or if you do not hear from us within 7 days of submitting an online application, contact our Manager of Volunteer Engagement Lee Cauble at volunteer(at)curiodyssey.org or 650-340-7580.
Join the CuriOdyssey Community