Get Involved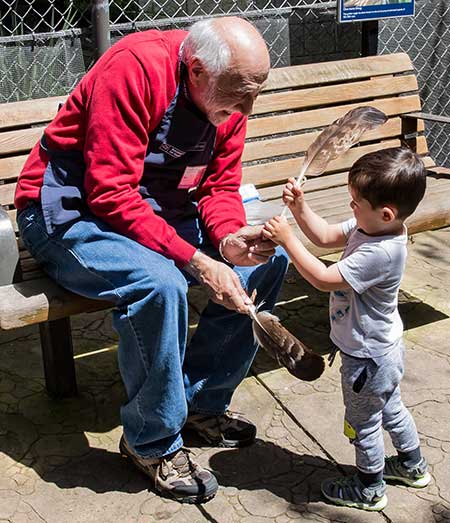 Volunteers are critical to our success.
Volunteers work with every department at CuriOdyssey from speaking to visitors about animals to helping behind the scenes.
Volunteer safety is a priority
We have a limited number of openings for new volunteers as we adapt our volunteer positions for our expanded outdoor visitor experiences. We are insuring that full health and safety measures are in place for every volunteer position to create a safe experience for volunteers as well as our guests, staff and animals.
How to volunteer
If you are interested in volunteering on a regular basis, the first step is to complete our online volunteer application. Once we receive your application, you will be contacted regarding open positions which fit your interests, skills and availability. If you have questions, please contact lcauble(at)CuriOdyssey.org
For other volunteer inquiries, or if you do not hear from us within 7 days of submitting an online application, contact our Manager of Volunteer Engagement Lee Cauble at lcauble(at)curiodyssey.org or 650-340-7580.
Volunteer Opportunities
Aviary Aide
Share your love of nature! Welcome guests to our walk-through Aviary, provide information about the birds and turtles, conduct bird observations and monitor space to insure the safety of animals and guests for one 2-hour shift per week. Reports to Wildlife Department.
Biofact Station interpreter
Enhance the zoo experience! Engage zoo visitors by showing biofacts on a drop-by basis outside behind a plexiglass panel for one 2-hour shift per week. Biofacts can include colorful and diverse insect display trays, along with reptile sheds, mammal pelts and animal skulls. Reports to Volunteer Department.
Greeter
Help guests make the most of their visit! Welcome visitors at our entrance outside, share important information and ask health check question before directing guests to admissions table, for one 2-hour shift per week. Reports to Guest Services.
Special Events Volunteer
Have fun helping children! Assist during our exciting special events on at least 4 Friday or Saturday evenings by serving as a greeter, way finder or activity facilitator. Inside and outside options available. Reports to Guest Services.
Join the CuriOdyssey Community