Get Involved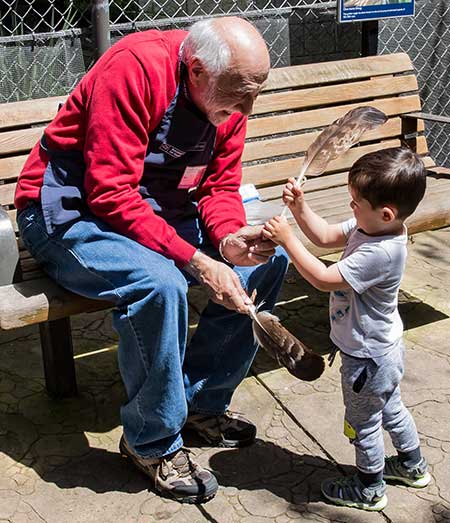 At CuriOdyssey, we recognize that volunteers are critical to our success. Last year, 163 individuals contributed over 9000 hours of service to CuriOdyssey by volunteering on a regular basis. We look forward to welcoming back our dedicated volunteers once we reopen and reduce the temporary restrictions on visitor interactions.
Until the time when we can offer opportunities and training for new volunteers, we are encouraging individuals who love animals, nature and science to volunteer with a community science project. See information below. These types of volunteer endeavors support research that would not be possible or practical otherwise.
Please continue to check this page for updates on volunteer opportunities and trainings at CuriOdyssey.
Community Science Volunteer Opportunities
iNaturalist
Take photographs of wild animals, plants and fungi and upload using the iNaturalist app on a smartphone or tablet, thereby contributing to data available for researchers. In turn, this app connects you with a community of over 1 million scientists and naturalists who can identify your photos and help you learn more about nature! https://www.inaturalist.org/
Coastal Cleanup Day: Every Saturday in September!
Conservation starts at home. This year, we are asking volunteers to protect marine life by collecting trash in local neighborhoods on any or every Saturday in September. Your efforts will prevent items such as cigarette butts and plastic wrappers from travelling to the beach, ocean or bay through storm drains and creeks. It's easy to participate:
Follow good SIP safety practices
Use your own bucket or bag, gloves and grabber or tongs*
Wear closed-toe shoes and sun protection
Use the Clean Swell app to record what you collect
*Loose trash is more likely to blow out of a garbage can or truck, so be sure to bag up what you collect before placing a full bag in a trash cart or bin.
Please read the Coastal Cleanup guidelines before participating: Coastal Commission's Guidelines
Learn more about the impact of uncollected trash: Water Pollution Prevention
California Biodiversity Day: September 7, 2020
California is the nation's most populous state and home to more diverse species and ecosystems than anywhere in the U.S. It's a global biodiversity hot spot, but that biodiversity is also disappearing at one of the highest rates. Direct action by all Californians can help reverse this trend. California Biodiversity Day was created to celebrate the state's exceptional biodiversity and encourage actions to protect it.
Join us in celebrating California Biodiversity Day 2020!
Document and learn more about our state's biodiversity by taking photos and uploading to iNaturalist during the Biodiversity BioBlitz on September 5-13
Protect our state's biodiversity by participating in Coastal Cleanup Day on Saturdays in September
Zooniverse
Zooniverse is the world's largest platform for people-powered research. You don't need any specialized background, training or expertise to participate in any Zooniverse projects. You can contribute to real academic research, on your own computer, at your convenience. Simply click here to investigate the many options and select the right project for you: https://www.zooniverse.org/projects
We are currently recommending the following Zooniverse projects:
Wildwatch Burrowing Owl
Coordinated by San Diego Zoo Global, this project seeks to document the behaviors and developmental milestones of burrowing owl families "holed up" in Otay Mesa, CA. By helping classify images from strategically placed motion-activated cameras, you will give researchers a clearer understanding of burrowing owl ecology.
More about this project at zooniverse.org website
Monkey Health Explorer
Help researchers who are studying the health of rhesus macaque monkeys on the island of Cayo Santiago in Puerto Rico. Provided tutorial makes it fairly easy for volunteers to learn to identify and count white blood cell types.
More information about this project at zooniverse.org website
Join the CuriOdyssey Community