Animals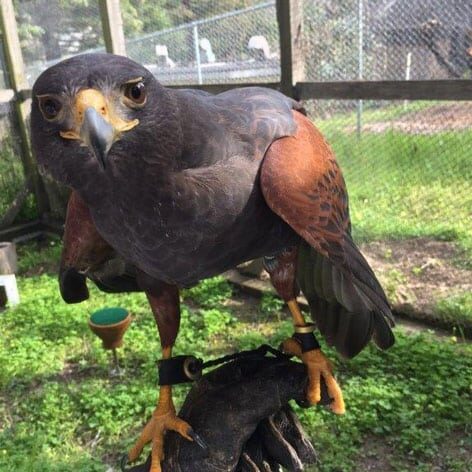 This animal is not on exhibit in the habitats. 
It is one of our Animal Ambassadors and is used in public and school programs.
Latin Name
Parabuteo unicinctus
Harris's Hawk History
Our Harris's hawk was captive hatched and imprinted on humans by a falconer. He was then transferred to the Raptor Conservancy of Virginia where he was an education raptor for 9 years. He came to CuriOdyssey in February of 2019.
Fun facts about Harris's Hawks
Harris's hawks are dark brown in color, with reddish-brown feathers on their wings and legs and a row of white feathers along the base and tip of the tail.
They will hunt cooperatively, generally as part of a family group comprising 4-6 individuals.
When there are a lack of perches from which to spot prey, Harris's hawks will stand on each other's backs in stacks of 2-3 birds; this behavior is called back stacking.
What do Harris's Hawks eat?
At CuriOdyssey, we serve our hawk mice, rat, chicks, and rabbits. In the wild, Harris's hawks eat rodents, jackrabbits, occasionally reptiles and small birds
How long do Harris's Hawks live?
In the Wild: up to 14 years.
In Captivity: 25-35 years.
Where do Harris's Hawks live?
Found in semi-arid habitats such as savannas and saguaro deserts in southwestern United States, south to Chile, Argentina, Venezuela, and Brazil
Are Harris's Hawks endangered?
No special status, although in certain areas, their native habitat is being lost to development, so they are becoming more common in urban and suburban areas. Harris's hawks are protected under the Migratory Bird Treaty Act.
Help provide for the care and feeding of our wildlife guests by sponsoring an animal of your choice for a year.
Join the CuriOdyssey Community