Get Involved
You invest. They'll invent.
Kids learn about science and animals best out in the world, not behind a desk or in front of a screen. At CuriOdyssey, we let kids loose to observe what is, think about what could be and let the natural world answer their questions. Your donations help us give them the power to ask what if and the tools they'll need to take on the future. Thank you!
CuriOdyssey by the numbers:
- 189,458 visitors annually
- Nearly 100 live, mostly native California, rescue or non-releasable animals
- 60+ unique, interactive science exhibits
- 195 volunteers who gave 11,099 hours of service last year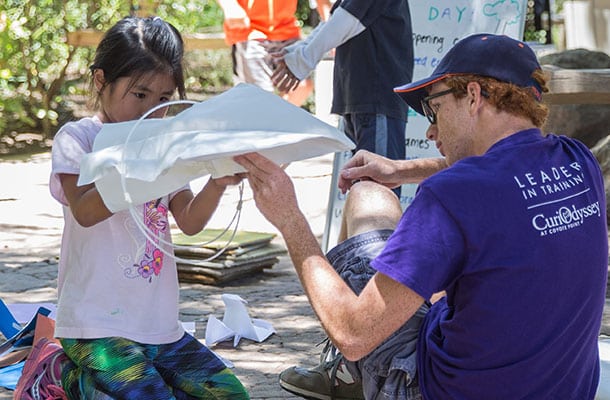 FIND THE RIGHT FIT FOR YOU
CuriOdyssey offers many opportunities to support our organization from volunteering to donating to adopting an animal.
Support Us
There are many ways to support CuriOdyssey. Let's give more kids the superpower of real science!
Our mission is to revolutionize the way science is taught today. We believe a serious science education is a right, not a privilege, and it's not getting the attention it deserves. That's why we're raising $35 million to transform CuriOdyssey into the ultimate serious science playground. Learn how you can join our cause.
Learn More >
Educate children and save the planet all at once! Your contributions work hard here to create and sustain our world-class science and wildlife center. There are many ways to give in addition to donating online. If you wish to mail a contribution, send it to us at 1651 Coyote Point Drive, San Mateo, CA 94401. If you wish to make a tribute, a gift of stock or more, please go here for more information. Thank you!
Learn More >
Membership gives you unlimited admission to the museum for one year, free parking, and admission to over 400 zoos, aquariums, and science centers nationwide.
Learn More >
Looking for the perfect gift to spread animal awareness? Adopt an animal and know that you are supporting all of the animals at CuriOdyssey.
Learn More >
CuriOdyssey's Wildlife Wish List is a shopping list of enrichment items needed to keep our animals happy and healthy. The Wish List also supports our efforts in wildlife conservation. Items on the Wish List range from $1 to $300. Just click here, and you will go directly to our CuriOdyssey Wildlife Wish List on Amazon. Make your selection and you will be helping enrich the lives of many of the animals in our care.
Learn More >
CuriOdyssey partners with local businesses in a variety of ways to bring exposure to your business, provide benefits for your employees, and impress your clients while you support the important work of the museum. Learn more about our corporate giving opportunities.
Learn More >
Time is money and we couldn't do what we do without many, many hours of help from our vibrant volunteer corps. Volunteer opportunities range from interpreting wildlife to facilitating science activities to assisting with animal care.
Learn More >
Sign up for eScrip and a percentage of many of your regular purchases will get donated to CuriOdyssey to support our exhibits, programs, and animal encounters.
Learn More >
Join the CuriOdyssey Community