Blog
65 Years of Green Education
CuriOdyssey Celebrates 65 Years of Green Education with New Micro Zoo Exhibit
CuriOdyssey is celebrating 65 years of helping children learn to understand and care about the natural world with the launch of a new exhibit, the Micro Zoo.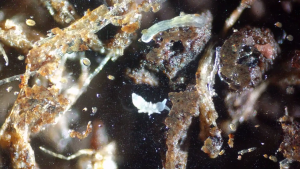 CuriOdyssey began 65 years ago as the San Mateo County Junior Museum, and was later renamed the Coyote Point Museum for Environmental Education, so it is only natural that we are dedicated to proactive conservation measures that will have a positive impact on San Mateo County and the San Francisco Bay. The need for STEM education for young people is more important now than ever before as we face multiple threats to the health of our planet.
At the heart of our mission is public engagement with authentic science and creating opportunities to help protect our natural resources. Our work exemplifies our role as a thought leader in environmental advocacy, supports the educational mission of the museum, and engages local communities in stewardship of the natural world. We are committed to environmental education as a means of protecting and preserving our future. Science fluency is key to this goal.
As a science museum and zoo, CuriOdyssey helps children acquire the tools to deeply understand our changing world. Many of these changes, particularly environmental ones, pose significant challenges. As a case in point, the Bay is contaminated with widespread pollution from billions of tiny pieces of plastic. This includes microbeads from personal care products, plastic bottles, synthetic clothing fibers, plastic bags and packaging, Styrofoam and cigarette butts, which harm wildlife and damage water quality.
New Micro Zoo
CuriOdyssey recently hired Soroosh Hedayati, an ambitious and talented young exhibit engineer with a background in electronics fabrication and design/build of custom exhibits. His work can be seen at the Wolf Museum of Exploration and Innovation in Santa Barbara and has appeared at the TENWEST Festival in Tucson. Soroosh has designed a fascinating interactive way to teach children about the effects of human-made materials on our ecosystem. The Micro Zoo examines the microscopic landscapes of our soils, illuminating an entire universe of species smaller than the palm of our hands. A custom-designed soil cartridge contains an ecosystem of creatures measuring ½ to 1/100th the size of a grain of sand and enables the discovery of organisms never seen before. The moisture-locked cartridge lasts for six months without the need for added water or food, sustaining a microscopic ecosystem of soil, compost and microorganisms undetectable to the naked eye.
This unique, hands-on educational adventure presents scientific learning opportunities in microbiology, ecosystem dynamics, biodiversity, decomposition, optics and hydrodynamics. The Micro Zoo offers a deeper appreciation of the depth and breadth of life on our planet and an intimate look into the impact of non-biodegradable materials. The Micro Zoo can examine any kind of natural sample – bay water, marsh environment, compost, etc.
In particular, the Micro Zoo highlights the impact of organic versus human-made materials, such as plastics, on our environment. Users can witness the breakdown of natural materials while human-made ones remain untouched. They can then easily extrapolate the worldwide environmental impact of waste disposal and pollution and better understand the seriousness of this issue.
Environmental Action
Over the last 10 years, CuriOdyssey has provided an increasing number of environmental action opportunities for the local community. Working closely with San Mateo County Parks, we have sponsored 17 Cleanup events in Coyote Point Park since 2010. Over 2500 volunteers have removed over 12,000 gallons of trash, preventing entry into the bay which could endanger marine life. We have also led 21 habitat restoration projects involving 350 volunteers who removed approximately 4000 gallons of invasive plants. Volunteers have included students, families, CuriOdyssey staff and volunteers, corporate groups, and a wide variety of community organizations.
For the past 4 years, CuriOdyssey Science Educator, Cat Brett has lead volunteer projects to remove LIRA in the marsh at Coyote Point. Starting last year, Cat Brett also developed an experiment in the marsh in collaboration with Treatment Program Manager at the Invasive Spartina Project, Drew Kerr to study the efficacy of manual removal in conjunction with herbicide use. This experiment not only benefits wildlife in the marsh, but also the people who live in the Bay Area.
In three successful marsh restoration projects so far in 2017, CuriOdyssey volunteers worked with 60 local high school volunteers and employee volunteers from the Moore Foundation, Wells Fargo and Oracle to remove over 900 gallons of LIRA from Coyote Point marshlands! We have seen pickleweed quickly return to the areas cleared of LIRA and hope to make Coyote Point Marsh LIRA-free with the help of the local community.
Forever Homes for Rescued Animals
CuriOdyssey's zoo has cared for 657 animals since its inception as Coyote Point Museum. Each animal has helped a child connect with nature and learn to respect and care for it. The zoo's animals allow children to observe the natural behaviors of wild animals in their exhibits or through the wildlife education programs held at the zoo, libraries and schools in the area.
CuriOdyssey is dedicated to helping children learn and care about the natural world and hopes to continues its work for another sixty-five years.
Join us online! #CuriOdyssey #nonprofit #science #wildlife
Join the CuriOdyssey Community