Blog
Happy National Zoo Keeper Week 2019! Presented by the AAZK, and celebrated by animal care and zoo facilities everywhere, we bring you the 2019 Keeper appreciation blog of CuriOdyssey's Keepers! #NationalZooKeeperWeek2019
Please join us in acknowledging the wonderful, hard-working, caring individuals that make up the Wildlife Department at CuriOdyssey. Below are some of their stories: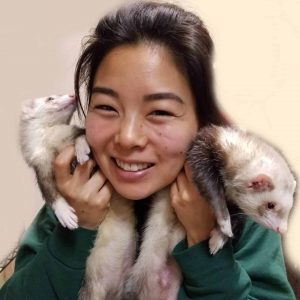 About Keeper Carissa: Carissa has been working at CuriOdyssey for 2 years. She initially started as a Wildlife Apprentice before becoming a regular, full-time Animal Keeper. Before coming to CuriOdyssey, she volunteered at the Honolulu Zoo, San Francisco Zoo, and the Peninsula Humane Society. When she's not at work, you'll probably find her baking, crafting, or hiking. Fun fact: Carissa spent many of her childhood years visiting CuriOdyssey (back when it was called the Coyote Point Museum!).
---
From Keeper Carmen: When I first walked into CuriOdyssey nine years ago I was considering volunteering with the wildlife department. I was given a tour of the facility and told I'd mostly be cleaning and helping prepare diets. My excitement fizzled at the thought and I decided to consider alternatives when the final portion of the tour took me into the raptor yard. It was there that I first saw this stunning feathery wonder, Yzma, a Swainson's hawk. You know those movie moments, where time seems to move a little slower and the sun beams hit just right? It was kind of like that. From that moment I was determined to do whatever it took to work with Yzma. If it wasn't for her that day, I would have walked away from the best job I've ever known. Thank you Yzma, and thanks to everyone who supports CuriOdyssey so we can give animals like her a home.
---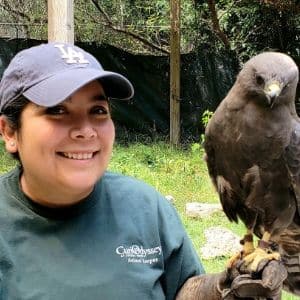 From Keeper Claudia: I started at CuriOdyssey as a Vet Tech/Animal Keeper in December of 2018. So far, I have really enjoyed working with the raccoons who have such different personalities from each other and keep you on your toes. My primary goal has been to become a Veterinary Technician at a zoo. Being able to be a keeper has helped me understand both sides of the Animal Care field and helps me be a better advocate for the animals. I started zookeeping and working medically with exotics in 2016, when I attended the Exotic Animal Training and Management program in Moorpark, CA. Back home I have 4 dogs, one who is a recent husky rescue and has stolen my heart. If I weren't a zookeeper, I would be a wildlife photographer.
---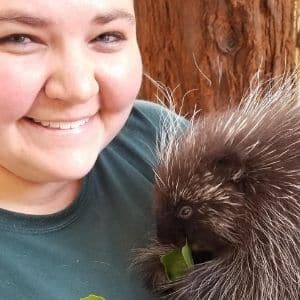 From Keeper Alex: My name is Alex, I've been a Keeper at CuriOdyssey for 2 years. I really enjoy working here with a multitude of species that I had not worked with previously! In the past I volunteered, interned and apprenticed at The Oakland Zoo and continued on to be a zookeeper at Happy Hollow Park and Zoo before working at CuriOdyssey. My hobbies outside of work include sewing and embroidering items and selling them online and hanging out with my pup, a Dalmatian Beagle mix. My favorite species include bats, capybaras, guinea pigs, porcupines and many more! As a child I went to The Oakland Zoo multiple times a week with my grandparents and parents. These visits instilled in me a deep love of the animal care profession from a young age. I would like to thank my grandparents and parents for always supporting my dreams and helping me so much along the way. I couldn't have become a zookeeper without them. My ideal spirit animal would be a bat or sloth, but I'm probably more of a leafcutter ant. Please enjoy my photo of me with our 1-year-old Porcupine, Poppy!
---
About Keeper Carrie: Carrie has been working for CuriOdyssey for 2 years. She wanted to become a zookeeper due to her desire to educate children and the public about animals and the environment. Her favorite animals here at CuriOdyssey include Dylan the gray fox, Horus the Peregrine falcon, Bud our Harris hawk and the ferrets! The part of her job which she is most passionate about is doing training with the animals. Some of Carrie's favorite conservation organizations she supports include The Peregrine Fund and the Western Pond Turtle Head Start Program. Enjoy a photo of Carrie with Bud!
---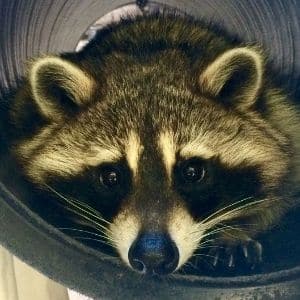 From Keeper Jen: I started as an Animal Keeper/Presenter at CuriOdyssey (formerly Coyote Point Museum) in April of 2007. Over the years, I have had the pleasure to work with numerous staff and animals of varying species and personalities. I am grateful for the opportunity to teach people about our native species and the importance of conserving the environment of their wild counterparts. Raccoons have always held a special place in my heart and I love that I get to care for them and explain to visitors the numerous attributes that make them so special along with the important role they play in our ecosystem. With raccoons, enrichment is never left untouched and training them for husbandry behaviors (scale, injection, and crate) is one of my favorite responsibilities of the job.  Please enjoy this photo of Pebbles!
---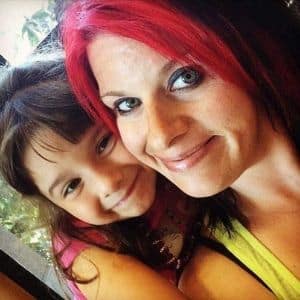 About Keeper RoseMarie: RoseMarie has been working at CuriOdyssey for over 3 years. Her job is quite special because she cares for animals and teaches elementary-aged students about them. As the Programs Animal Keeper, RoseMarie brings Animal Ambassadors to elementary schools in the peninsula as well as CuriOdysseys' classroom. "I love when students make connections from their own lives to what they learned about wildlife."
RoseMarie has been working with animals since she was 13 years old and continued working with them in various ways through animal hospitals, other zoos and outreach as a Wildlife Educator. Aside from her love of teaching at the zoo she also teaches adults through fitness. RoseMarie has been a Group X Fitness Instructor for over 8 years and just recently has become certified in 2 new formats for a total of 5! She teaches Zumba, Bodypump, Strong by Zumba, POP Pilates and Bodycombat.
Her love for fitness, animals and teaching has allowed her to thrive in all aspects of her career. When she is not working (which usually never happens) she enjoys going to theme parks like Santa Cruz Beach Boardwalk, Six Flags, Knots Berry Farm, Universal Studios and Great America, walking, going to the movies and library…"I love to escape in a good book."
The BEST part of her life is not her work or her hobbies but being a mommy to her daughter Elena. "She is the best thing that has ever happened to me and the love of my life." You can see Elena with RoseMarie during CuriOdyssey's First Family Friday Nights and in some evening events held at the zoo. She was asked to send a picture of herself with her favorite animal…" that is such a hard question to answer whenever someone asks me what my favorite animal is…there are too many." Instead RoseMarie chose one of her all-time favorite pictures that continuously makes her smile.
---
Not pictured, but always appreciated: Nikii! Thank you and your team for everything — Happy National Zoo Keeper Week!
Join the CuriOdyssey Community