CURIODYSSEY VIRTUAL BENEFIT 2022

Join us for our 12th Annual Benefit
FORCES OF NATURE
A Virtual CuriOdyssey Benefit Event
Thursday, March 3, 2022
7:00pm
(pre-show at 6:45pm)
Please join us at our virtual benefit event to support CuriOdyssey.
Proceeds from the benefit will help us inspire a love for science and curiosity about the world to create a brighter future.
Register to join us for this complimentary event!
Click the REGISTER buttons below to register with our partners at Greater Giving. Registration is FREE for everyone.
Check your email the week of March 3rd for helpful information on joining the live event. You will receive a unique viewing code to connect to the event on one device. Codes cannot be shared. You may need to check your spam folder.
Sit back and enjoy! The program will run from 7:00-8:00pm PST, with a pre-show starting at 6:45pm.
Every child deserves an equal opportunity for a great STEM education.
Help ensure that all families and schools in our community have access to core science and problem-solving skills that will prepare them for the future in a fast-changing world. Your support for CuriOdyssey's free and subsidized services allows everyone to benefit from interactive exhibits, hands-on programs, and up-close wildlife encounters.
If you are unable to attend the event and would like to make a donation, click the button below.
Sponsorship Opportunities

If you would like to donate through a method other than credit card or bank transfer,
please contact CuriOdyssey at [email protected].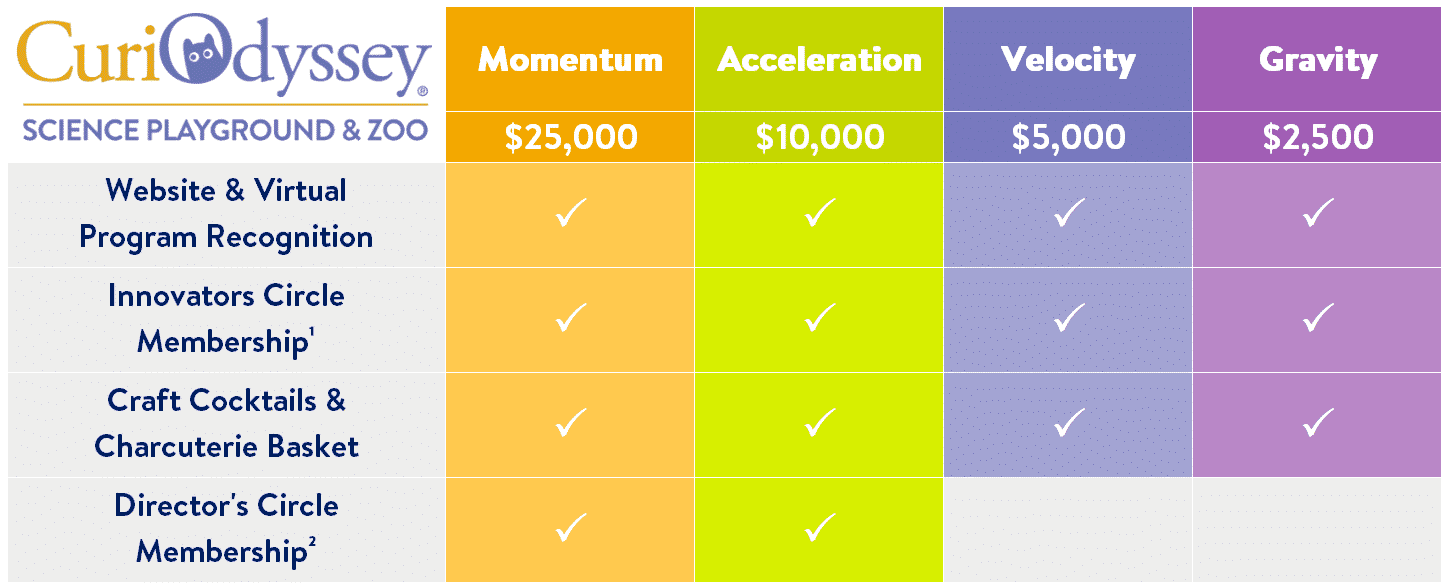 Sponsors at the $2,500 level or above will receive a Craft Cocktails & Charcuterie Basket delivered directly to their home on the day of the event.
You must opt in or out on the sponsor registration page.
Fair Market Value: Pending
¹ ² Innovators Circle & Director's Circle memberships are not offered for gifts received via donor advised funds. Director's Circle membership will be issued in lieu of Innovators Circle for gifts of $10,000 and above.
Thank You to Our Sponsors!

Momentum
Sharon & Joel Friedman
Laurel & Steve Miranda
Acceleration
Andrea & Bob Irvin
Julie & Albert Lee
Velocity
Anu Datta & Stephanie LeMar-Datta
Kelly & Mike Markson
Nilofer Motiwala & Ashish Motivala
Gravity
Anne Campbell & Michelle Green
Christina & Paul Diercks
Lynne Esselstein & Jonathan Joseph
John & Paola Flygare
Juan & Renée Galá
Maciej Gliwa & Sherry Wang
GMGI Incorporated
Amar Mehta & Rani Bhuva
Bruce & Frances Wright
Join the CuriOdyssey Community