Blog
What is Single-Use Plastic?
What is single-use plastic?
While you may not have heard the term "single-use plastic" before, you are most likely familiar with items that count as single-use plastics, such as cling wrap, Ziploc bags and plastic straws. Single-use plastics are items that are made of plastic that are meant to be used just one time before being discarded.
So what's the big deal about single-use plastics?
Plastic was made to last forever! Plastic does not break down over time—it actually breaks into smaller and smaller pieces, making it even more difficult to remove from the environment and put in the trash.
Most single-use plastics are NOT recyclable, so it is inevitable that tons of plastic ends up in our landfills, or worse, in our oceans and waterways and hiking trails and along the side of the road.
Tiny pieces of plastic are often consumed by a variety of wildlife, allowing harmful chemicals found in plastics to make their way into the food web. While this is bad news for the animals that eat the plastics, this also affects humans, since we often consume animals (such as fish) that have accidentally ingested tiny plastics.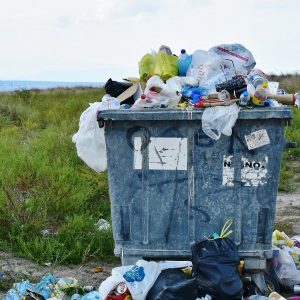 This is an issue that we see affecting ecosystems worldwide, but it is not a hopeless one!
Here are some ways to tackle the challenge of single-use plastics in your own life:
Refuse the straw—if you can. Next time you get a drink at a restaurant or coffee shop, say no to a straw, or bring your own. There are many re-usable straw options available that are made out of a variety of materials, such as paper, bamboo, or stainless steel. While some individuals may need a straw as a tool (we hear and are present for those groups who have said they have not found an alternative that works for their specific needs), for those of us who use it when we have alternatives accessible to us, it is a toxic relationship.
Look into alternatives for cling wrap. Beeswax wrap is a great product that does the job of cling wrap, but is re-usable for up to a year and is compostable when it is not usable anymore.
Re-use those Ziploc bags! They can easily be washed with soap and water and re-used instead of being thrown away after one use.
Re-use or bring your own produce bags to the grocery store! Like Ziploc bags, plastic produce bags can also be washed and re-used, and often times recycled at the grocery store.
Don't forget about your reusable grocery bags! BONUS if you research the people who make your reusable bag to see if they are conscious of the steps in production/material sourcing (wouldn't want the production of a reusable bag to impact the environment terribly, either).
 Examine your purchasing habits. Take a look at the packaging or displays certain manufacturers use. If you have the time, you can even research the companies whose products you frequently purchase.
Think "family conservation"—what are ways to encourage conservation across generations in your own home?
It is a challenge to re-think the way we use plastic in our daily lives, but your local wildlife and environment will thank you for any and all efforts made to reduce single-use plastics!
Explore below for even more ideas on how to use less disposable plastics:
Find us online! #CuriOdyssey #FamilyConservation #PlasticFreeJuly #EndPlasticPollution
Join the CuriOdyssey Community