Blog
"Science" as Word of the Year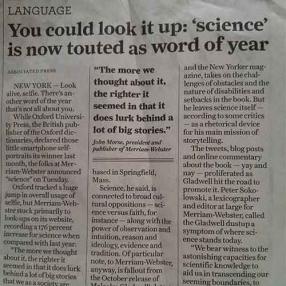 Much to our delight, Merriam-Webster named "science" as the word of the year for 2013. According to the publisher, the word saw a 176% increase in lookups this year over last and stayed a top lookup throughout the year. We can likely attribute this increase to myriad discussions on the topic, from climate change to educational policy.
As a science and wildlife center for young learners, we can only hope the interest in this topic continues into 2014 and beyond. We'll definitely be doing our part to encourage the interest by encouraging children to investigate and explore the sciences and the natural world in our classes and programming.
With that — three cheers for science!
Join the CuriOdyssey Community