Blog
National Vet Tech Week is TOADally Amazing!
For National Vet Tech Week we are highlighting an animal care progress report from Vet Tech Keeper Claudia! Thanks to our Wildlife team's extraordinary care we can share stories like this one.
This report is about a type of animal that is often overlooked and underappreciated—the amphibian! Specifically, CuriOdyssey's western toads (which are native to California!).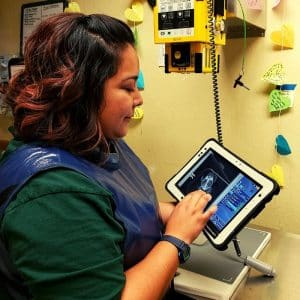 Where did these western toads come from?
Our western toads came to CuriOdyssey recently from the home of a younger caregiver who had raised them. Amphibian ownership requires a substantial amount of research for proper care, and in learning about amphibians the western toads were voluntarily donated to CuriOdyssey so that they could thrive with trained professionals. We are very thankful to the previous owner rightfully retiring the toads to a life of quality care and health management.
Why toad bones?
It is upon taking these western toads in that we found they had developed metabolic bone disease. The outcome of this discovery? A dedicated care plan with thorough monitoring and close care. Our team is happy to report that with proper nutrition and stable environmental factors the toads are improving. We have been seeing a lot of progress in bone development!
See the difference in their forelimbs and hindlimbs (and just to see how cool toad x-rays look) below:
Vet Tech Keeper Claudia and all of our Keepers put in the time and go above-and-beyond for all of CuriOdyssey's animals. They keep an eye out and work in their best interest for a high quality of life—while also enriching their lives through puzzles, sensory items, the occasional snack, training and more. If you weren't aware, their quality care allows us to be certified by an accredited organization of higher standards (the A.Z.A.). Once again, it truly is thanks to their extraordinary care we can share stories like this. Thank you!
Did you know? The in-house x-ray machine used to monitor all of our animals was funded in part by donors. It truly makes a world of difference, please donate today!
Find us online! #CuriOdyssey
Join the CuriOdyssey Community