Blog
Día de los Muertos at CuriOdyssey in San Mateo
All about our Día de los Muertos event at CuriOdyssey in San Mateo, California!
Featuring guests from The Mexican Museum, local artisan David Manzanares Tafolla and Madd Mex Food Truck throughout the night. Bonus guest appearance from Congresswoman Jackie Speier.
More memories about the animals will be released in a blog which will be linked here.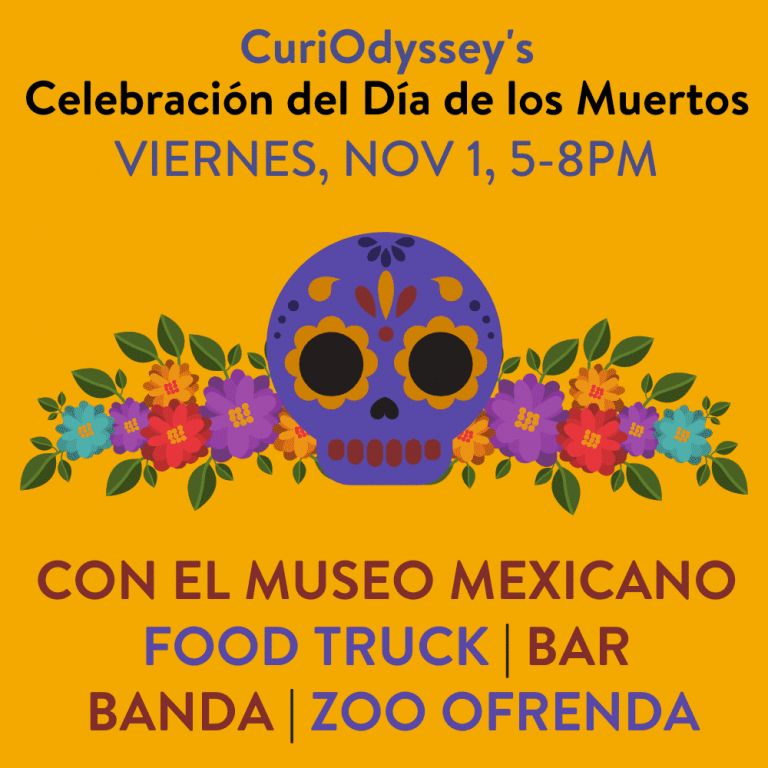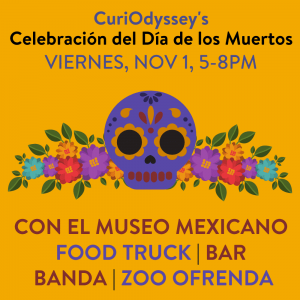 Our 2019 celebration includes:
Zoo Ofrenda, honoring animals from CuriOdyssey's long history in the community
Dia de los Muertos Art from The Mexican Museum
Tissue flower making with The Mexican Museum
Community Art Station
Artisan Craft Booth by David Manzanares Tafolla
Festive Music, Live Band
Madd Mex Food Truck
Potted flower seed station to support local Monarch migration
Themed drinks at our cash bar
Dancing area equipped with cocktail tables
Themed photo opportunities
Thank you for your curiosity about our celebration.
Event Activities/Cultural Significance Resources:
You may have noticed some of these symbols at our event.
Read on to learn more:
Zoo Ofrenda

Papel Picado

A wind element, can also announce the arrival of the dead.

Water Jug

A drink offered for the dead after making their journey.

Marigold Flowers

A colorful and fragrant flower said to attract the dead.

Painted Skulls

Celebrating the element of death, a part of life – festive and positive!

Leaves/Animal Kibble

Often a 'favorite food' of the dead is placed on the ofrenda – in this case our animals enjoy leaves ("browse") and kibble.

Copal Incense

Copal incense is made of tree resin from a tree of the same name, used for many years in cleansing and ceremonies. It is also considered an element to guide good spirits and keep the not-so-good ones away.

Various Items

We adorn the ofrenda with items the animals enjoyed during their lives.

Candles

Candles represent the element fire; the lights help to welcome the spirits.

Tissue Flower Making/Marigold Flowers

Our tissue flowers represent Marigolds, a colorful and fragrant flower said to attract the dead.

Monarch Butterflies

We are planting milkweed seeds to support Monarch butterfly migration! Monarch often symbolize the spirits of the dead; Monarch migration happens around this time so they are often seen out and about.

Festive Music, Food & Cash Bar

Dia de los Muertos is a celebration in remembrance of those who are no longer with us. It is a celebration – food, music, dancing and drinks make the event that much more festive!
Learn More! Resources:
Many symbols above may come in different forms and hold different meanings for different groups. Luckily, resources to learn more can be found online and in real life in places like your local library or cultural center!
Special note: These symbols are through the lens of a Mexican-American, "actively, culturally practicing" individual and should not be considered an umbrella guide to Dia de los Muertos. As with all traditions, families have different ways of keeping the tradition alive which may be unique/non-traditional. Thank you!
Join the CuriOdyssey Community