Blog
CuriOdyssey's Director of Exhibits Featured on ABC7 News
If you don't know by now, pumpkin days are in full swing here at CuriOdyssey. Recently, reporter Ama Daetz from ABC7 News took some time to chat with our Director of Exhibits, Eric Maschwitz, to learn more about the science behind pumpkin days and how each of the carefully crafted exhibit areas relate to CuriOdyssey's larger mission of becoming a national resource in STEM learning and early childhood development. If you haven't had time to check out pumpkin days, you still have until the end of the month to explore this, as Eric would say, 'whimsical' approach to Halloween science.
Please enjoy the clip below.
Thank you to Ama as well for her continued support of our mission and organization.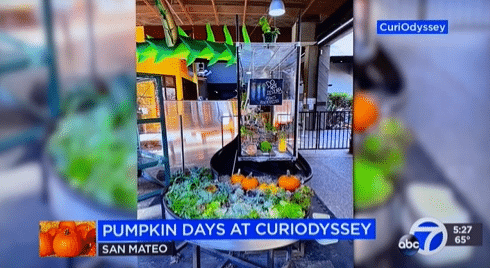 Join the CuriOdyssey Community