Blog
On a beautiful Saturday afternoon on the Bay in front of over 125 attendees, including funders (The Taylor & Steyer Family, Lead Funders; Sharon and Joel Friedman, Funders of the Swing Zone; Xu Family Charitable Foundation, Funders of the Slide Zone), our Board, partners, staff, family and friends, CuriOdyssey's Executive Director Aragon Burlingham and California Representative Jackie Speier cut the ribbon to make it official. After nearly 2 years of construction, our Whooosh! Physics in Action playground is finally completed. Our packed agenda included sentiments from local politicians as well as those who directly inspired the development of this magical playground in CuriOdyssey's gardens.
Speakers included:
o Aragon Burlingham, Executive Director, CuriOdyssey
o Olenka Villareal, Founder & CEO, Magical Bridge Foundation
o Laurel Miranda, Board Chair, CuriOdyssey
o Kat Taylor, Lead funder
o Carole Groom, San Mateo County District 2 Supervisor
o Congresswoman Jackie Speier
Fully equipped with a swing zone, slide zone and spin zone, our physics in action playground (designed by Magical Bridge) in the first of its kind to be built within a museum setting, creating a playground that utilizes the latest in universal design principles to serve the entire San Mateo County community.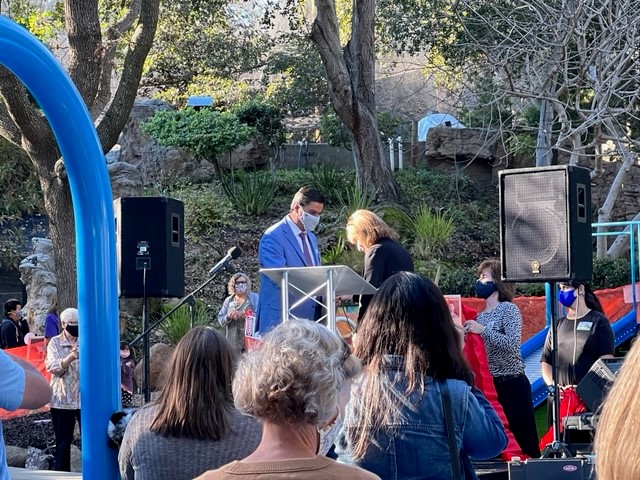 We would like to extend a special thank you to all our partners: Magical Bridge Foundation, Sares Regis Group, Whiting-Turner, Iverson Group, Barbara Butler, San Mateo County government and county park officials as well as City of San Mateo officials for their support in completion of this momentous project.
Also, a special thank you to Heirloom Catering and Chairs4Events for their day-of event support.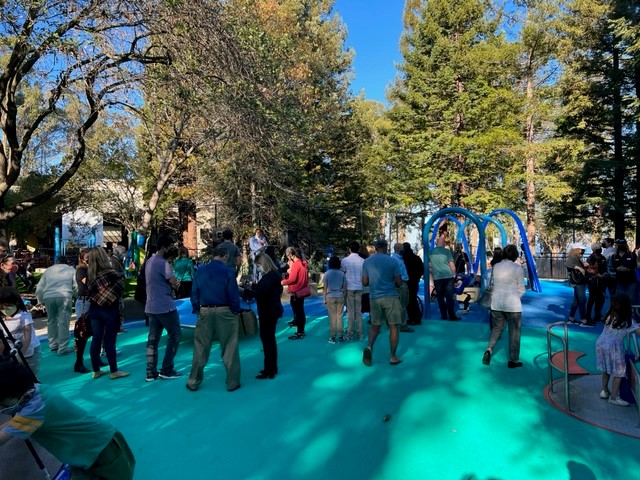 The playground is the inaugural installation of a new campus plan to create a world-class destination for early science learning in San Mateo County. CuriOdyssey opened the $2 million playground on November 13, 2021 and plans to break ground in spring 2022 on a new Marina Building which will feature an exhibit gallery, two new learning labs and a sweeping view of the bay. The Marina Building will be the next step in creating a new 8-building campus that re-imagines CuriOdyssey for the 21st century.
Join the CuriOdyssey Community