Blog
The Plight of the Honeybee – Solved?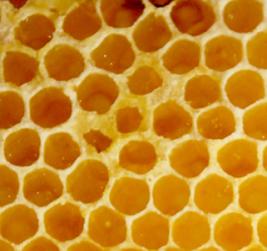 I must divulge: I have a particularly strong affinity for honeybees.
My father is a hobbyist beekeeper, so growing up there were always unusual, apiary-related objects lying around our home. In my family's basement, there were bee frames and remnants of wooden hives. In the garage, gloves and a protective suit hung from the rafters.  It made for an interesting childhood, especially when my friends caught glimpses of my dad plodding through our backyard, bee smoker in hand, dressed in a full beekeeping suit.
I spent my early years with access to fresh honey – a gift that I didn't realize was quite so novel until later in life.  My dad managed to impart in me a respect for the fuzzy little insects that worked tirelessly to keep their honey supply at dizzying levels.
But in my teen years, the bees that my dad so vigilantly cared for started dying. Other honeybee colonies across the country were suffering the same plight, and the experts couldn't determine why. Suddenly, the honey that once was so abundant in our home became scarce.
There were theories about what might be killing colonies at such an alarming rate, causing what was termed, "Colony Collapse Disorder (CCD)." Was it global warming? A particular kind of mite? Or could pesticide be the perpetrator?
After so many years, researchers seem to have come closer to identifying what's killing the bees. This is good news for bees across the country, including ours here at the Museum.  The Museum has lost several colonies over the past few years due to swarming and illness, and it's possible that CCD may have played a role. According to recent reports, a team of Army scientists and bee experts believe that a virus and a fungus, working together in a tag team-like manner, are the culprits. And while not everything is yet completely understood about how the virus and fungus team up, this seems to be a promising breakthrough in understanding the plight of these important insects and how scientists can help.
To learn more about this discovery, read the full article in The New York Times online.
Posted by: Hillary Hempstead, staff
Join the CuriOdyssey Community