Blog
A Summer of Science and Animals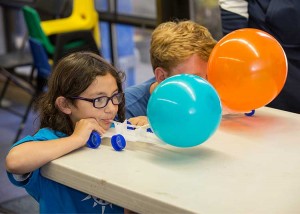 As a science and wildlife center for children, CuriOdyssey provides up close and personal experiences with the natural world for thousands of children in the Bay Area each year.  CuriOdyssey's amazing educators, designers, and animal keepers do this by delivering exhibits, classes, and workshops that utilize authentic scientific phenomena and live animals. The bottom line is — we love fostering in kids a love of science!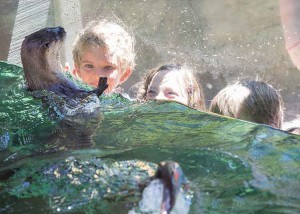 While CuriOdyssey caters science education experiences specifically to children in the first decade of their lives (yes, our exhibits are even thoughtfully designed to scale for younger kids!), there are numerous other Bay Area institutions that are doing wonderful things to educate kids of a variety of ages.
We'd like to tip our hats to all of the institutions, museums, and zoos in the SF Bay Area that engage children in science exploration and experiences with animals. Here are just a few to check out this summer (after you visit CuriOdyssey, of course!). This list is not a complete list of institutions in the Bay Area, but just a few of our many museum friends. Kudos to all!
Exploratorium – This museum of science, art and human perception offers creative exhibits, experiences, tools, and projects that ignite curiosity, encourage exploration, and lead to profound learning.
Lawrence Hall of Science – UC Berkeley's public science center inspires and fosters learning of science and mathematics. They accomplish this through exhibits, events, and activities.
Chabot Space and Science Center – This museum perched in the Oakland Hills is a place for students of all ages to be inspired about the Universe and Plant Earth. The center boasts a science observatory, Planetarium shows, exhibits, classes, and workshops.
San Francisco Zoo – This expansive zoo is an urban oasis within the busy city of San Francisco. It's home to many exotic, endangered and rescued animals, and it has a focus on animal conservation. The zoo has a full daily schedule of programming for visitors, including animal encounters and feedings.
Lindsay Wildlife Museum – This combination of a natural history and environmental center is home to more than 50 live animals. Visitors can see native California animals on exhibit, take classes, and learn about the environment at this gem, located in Walnut Creek.
Oakland Zoo – At this zoo located in the East Bay, visitors can explore an expansive, lush park and see about Rain Forest animals, visit an "African Village," explore an area just for kids, and more!
There are just so many museums and zoos in The Bay Area to discover, you'll probably run out of time before you run out of options! Happy exploration!
[photos by Justin Miel]
Join the CuriOdyssey Community