Blog
We're welcoming our Spring 2018 event SWOOP – Drones & Raptors (2/9, 2/10-11 & 2/17-19) with this blog about all things drones. 
View our sibling blog post about all things raptors here.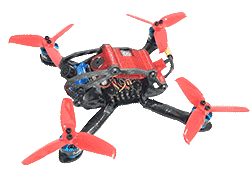 What is a drone?
In simple terms: it's a flying robot! Today, drones are by definition a pilotless, remote-controlled aircraft. Back in the day, experts would have defined a drone as also being autonomous, without human control (and thus following GPA or a set path). This is no longer the case. You can find articles like this one online, which highlights the terminology transition as drone use shifts from military to civilian use.
How are commercial drones made? 
Watch this video from How It's Made on Commercial Drones.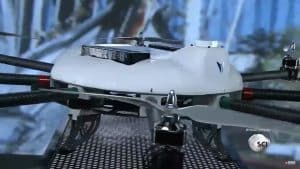 How do drones make a positive impact?
While being incorporated into many fields as useful tools, drones are also really fun! You could use a drone for racing obstacle courses, chasing hurricanes, or monitoring endangered animals in the wild. Maybe you want to deliver medicine or other goods, or take a drone on a 3-D mapping adventure. Want to pinpoint where your crop needs more resources? There's a drone for that. Check out this article from Nat Geo about other ways drones are used.
What are some setbacks to drones? Why aren't they allowed in Coyote Point Park?
Drones have raised some valid concerns for many people. For example, drones equipped with cameras could feel like an invasion of privacy. People also fear drones will replace humans, as is a common fear the more we advance technology. Drones can crash, and in doing so become dangerous; a drone crash represents a threat of damage to property or injury to people. There are also more complicated concerns with drones when being used remotely by military. Coyote Point Park does not allow drones in order to preserve the natural environment of Coyote Point Recreation Area. As such, C.P.P. seeks to make sure all plants, animals and natural features are protected.
Are there different kinds of drones?
Oh yes, there are many drones. Explore these links below to view some different kinds of drones.
Different Kinds of Drones (general):
Military Drones:
Special Project Drones:
 Hobby Drones:
How can I get involved and learn more about drones in my area?
Here are some suggestions on where to start:
Visit CuriOdyssey during a drone event, like

SWOOP – Drones & Raptors

this Feb 2018.
Talk to a professional or hobby group in your area; they can often be found hosting events at libraries or science centers.
Learn about drone regulations in your area. Besides F.A.A. regulations, what local laws are there? Are you near an airport or protected wildlife area? Is insurance required?
Download 'B4UFLY' Mobile App, the F.A.A.'s safety app, which provides information about airspace restrictions and other requirements based on GPS.
Know before you fly: check out this site for tips on what you should know before you fly. Drones are so fun, as you can imagine there are many other sites that list great information about drones and getting started, like this one here. A search on the internet will bring up a ton of resources for you!
Quadcopters: this site has a checklist and tips for flying quadcopters.
Search out reviews of the drone you are considering buying. Much like any other electronic, it's good to get outside opinions. Something to consider: it takes time to adjust to piloting a drone, and crash landings are bound to happen; adjust your budget with this in mind.
Don't give up! If you have the resources, another option at the end of the day is paying for a professional drone piloting class.
●○●○●○●○●○●○●○●○●○●○●○●○●○●○●○●
We hope you've enjoyed this information, and encourage you to share what you've learned.
Don't forget to check out SWOOP – Drones & Raptors.
February 10 – 11 and February 17 – 19
Opening Night – February 9,  5 p.m. – 8 p.m.
●○●○●○●○●○●○●○●○●○●○●○●○●○●○●○●
Thank you for your curiosity!
Find us online. #CuriOdyssey #SciencePwr
Join the CuriOdyssey Community