Blog
CuriOdyssey Gala Lights Up Hillsborough
Thank you to the many supporters who came together to make the ninth annual CuriOdyssey Gala an incredible success! More than 320 guests gathered at the elegant home of Danielle and Gil Simon for cocktails and hors d'oeuvres, a gourmet dinner, and a lively silent disco. The event included our most successful and exciting live auction ever, raising $124,000. In total, generous donors at the CuriOdyssey Gala contributed a record-breaking $250,000 to support free and low-cost education programs and to provide support for CuriOdyssey's animals.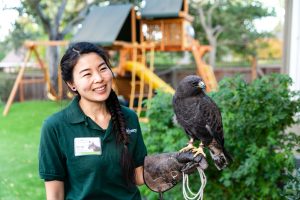 Throughout the evening, guests enjoyed meeting our Animal Ambassadors, experiencing a new IlluminOdyssey exhibit prototype, and joining together to support the cause for revolutionizing children's science education in our community. Contributions from guests and sponsors will help provide impactful education programs free of charge and at deeply subsidized rates for under-represented schools, groups and families. Support from this gala will offer free science workshops to 912 K-5 students at two local elementary schools, continue CuriOdyssey's afterschool science workshops, provide field trips to more than 1,500 underserved students, and enable an extra Community Day to give thousands of free visits for families who might not otherwise have access to CuriOdyssey's hands-on, inquiry-based approach to science.
We are grateful to the generous donors who contributed to our outreach programs during the CuriOdyssey Gala. Thank you for helping to give the superpower of science to all children in our community!
Thank you to our volunteers
Many thanks to the hard-working volunteers who devoted countless hours to creating this year's gala.
Co-Chairs: Jennifer Prentiss Keane, Cinthia Simon, Danielle Simon
Auxiliary: Patricia Dassios, Amy Fenton, Christine Grieve, Laura Hansen, Mary Ann Hasenstab, Alicia Isero, Teri Kil, Lara Krpata, Lisa Mendell, Nicole Salama, Tara Samuels, Minnie Sanford, Cindy Sohn, Rita Walia, Patrice Wilbur, Gerri Wong
Thank you to our donors
Sincere thanks to our gala donors, whose generosity resulted in a record-breaking $250,000 raised to give children of all backgrounds and means the superpower of science.
Rahela Abbas & Peter Moore
Laura & Dennis Allaire
Jennifer & Eric Amdursky
Anderson Yazdi Hwang Minton + Horn LLP
Rebecca & Hisham Anwar
Marianne & Jim Arbeed
Ann & Chris Aristides
Amanda & Ryan Barnes
Brian Baum & Moira Geraghty
Kelly & Carter Beim
Wendy & Sam Bergh
Lydia & Steven Bergman
Megan & Dan Binn
Liat & Christopher Bishko
Courtney & Nicholas Bocci
Kathleen & Daniel Bomze
Boston Private
Catherine & Michael Breen
Agapi & Bruce Burkard
Tere Casas
Rosemary & Patrick Chiang
Alice Chiao & David Kung
Christine Hansen DDS & Roberta Jurash DDS
Ryan Clark & Caroline Gaffney
Kelly & John Couch
Ben Coughlin & Annie Luetkemeyer
Deborah & Matthew Crisp
Meghan Crowell & Jason Trimborn
Patricia & Angelos Dassios
Christina & Paul Diercks
Discover Health
Stacey & Theodore Dobos
Julie & John Dougery
Lisa & Andrew Duffell
Lorri & Alex Dyner
Lisa & Michael Edwards
Jessica & Scott Engelman
Lynne Esselstein & Jonathan Joseph
Sarah & Brian Evars
Melissa & James Farris
Nahall & Daniel Fells
Amy & Ric Fenton
Lisa & Shane Finnigan
Karen & Mike Folgner
Geraldine Forrester
Wendy & Charles Forrester
Zara & Lani Fritts
Lisa & Ben Garosi
Dolores Gevertz
Louisa & Mark Gillett
Christine & Jon Gilmour
Jenna & David Golde
Marritje Greene
Christine & Robson Grieve
Kelly & Bill Griggs
Guittard Chocolate Company
Laura & Karl Hansen
Aimee & James Harris
Jo Ann & Mark Hartley
Mary Ann & Michael Hasenstab
Jill Hetherington
Carla & Robert Hoblit
Khristine & Gordon Holterman
Andrea & Robert Irvin
Simona & Michael Irwin
Melida & Thad Jampol
Amy & Robert Jasmer
Jill & Derek Johnson
Ruchika & Mohith Julapalli
Roberta Jurash
Lisa Karson
Jennifer & Bryan Keane
Kim & Les Keyak
Teri Kil & Trevor Watt
Danielle & David Kling
Kate & George Korsh
Donna Krause
Lara & Kyle Krpata
Linda & Sterling Lanier
Hyun-Joo & Kevin Laws
Grace & Paul Leung
Mark Lewis & Barbara Shapiro
Amy & Michael Liou
Carolyn & Tony Lorber
Anne Lynde
Heidi & Matt Malden
Dana & Andrew McCabe
Joanne & William McCreery
Lisa & David Mendell
Alisa Menell & Dan Jones
Rachel Meyer
Laurel & Steve Miranda
Dana & Josh Morse
Gordon Myers
Wayne Osborne & Gregory Price
Melinda & Rick Osterloh
Gisela Paulsen & David McNinch
Nancy & Randy Paynter
Peninsula Pediatric Dentistry & Orthodontics
Jenny & Ricardo Perez
Kendra & Bill Perlitz
Jane & Dave Pine
Denise Pollard & Ross Berman
Julia & David Popowitz
Regent5
Anne Riley
Jenny & Gerald Risk
Ruthanne & Scott Roth
Melodie & Ben Rubin
Carley & Paul Rydberg
Dana & Ido Sakal
Nicole & Robert Salama
Tara & Jeff Samuels
Minnie & Mike Sanford
Erin & Neil Schaefer
Jean & David Scheible
Serenity MedSpa
Constance Sevier
Bessie & Bill Seybold
Jennifer & Jason Sills
Cinthia & Tal Simon
Danielle & Gil Simon
Nava & Zev Simon
Shanon & Chris Smith
Cindy Sohn & John Chen
Charlotte & Jonathan Soja
SoMa Equity Partners
Mid-Peninsula Roofing
Abra & Joseph Stein
Steiners Jewelry
Martha & Jonathan Stone
Marlo & Steve Stroud
Kat Taylor & Tom Steyer
Polly Hoover Taylor
Kim Tramel
TreeRing
Connie Tsao & Lee Jiang
Mary Page & Gerard van Hamel Platerink
Johanna & Ben Werther
Patrice & Michael Wilbur
Samantha & Christopher Wu
Laurie & Ryan Zander
Jessica & Brian Zucker
To view our generous in-kind donors, please visit https://curiodysseygala.org.
Join the CuriOdyssey Community