FAMILY EVENTS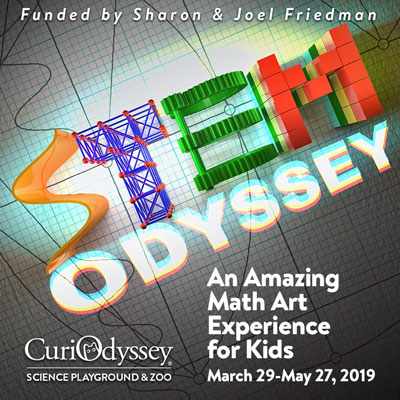 An Amazing Math Art Experience for Kids
March 29 – May 27, 2019
Tuesdays-Sundays, 10am-4:45pm
Puzzles | Geometric Sculptures | Mazes & More
Be amazed and astounded by the fun of math art at CuriOdyssey's STEM Odyssey. Navigate through an oversized floor maze and design a maze of your own. Experience the beauty of mathematical structures in a space defined by catenary arches, geodesic domes and suspended polyhedral sculptures. Play S.T.E.M. games and solve intriguing, interactive puzzles. Watch entertaining math themed short films in a cinema arts space. Ignite a lifelong passion for science, technology, engineering, art and math in your child and in yourself at STEM Odyssey!
STEM Odyssey is generously funded by Sharon & Joel Friedman.
Join us for s special STEM event! Construct geometric forms to see how patterns join to reveal symmetries of shapes with STEM Odyssey artist Stacy Speyer at a CuriOdyssey Polyhedra Party on Saturday, May 11, 1:30-3:30pm..
Join the CuriOdyssey Community