EXHIBITS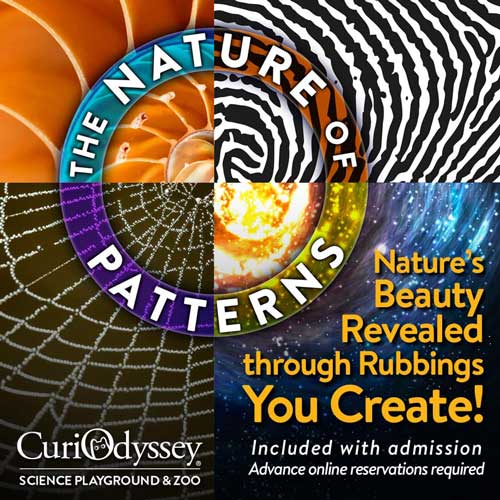 The Nature of Patterns - An Outdoor Exhibition
Discover the beauty and science of patterns in nature while in the great outdoors!
Opening Now! | Wednesday – Sundays 10am-5:30pm
Included with Admission to CuriOdyssey | Advance Online Reservation Recommended
Explore and make your own crayon rubbing from each exhibit to take home with you. Learn about symmetries, fractals, cracks, flow and chaos, waves and dunes, bubbles and foam.
These new patterns exhibits join our Illusions exhibits located in our lovely garden alongside our outdoor zoo for fun visitor experiences. CuriOdyssey's outdoor museum and outdoor zoo meet all California and San Mateo County safety guidelines.
This new outdoor exhibition is included in admission to CuriOdyssey beginning
September 3, 2020. Visitor safety precautions required. Advance online reservations recommended.
Please make your timed ticket entry reservations and purchase tickets here!
Join the CuriOdyssey Community