EXHIBITS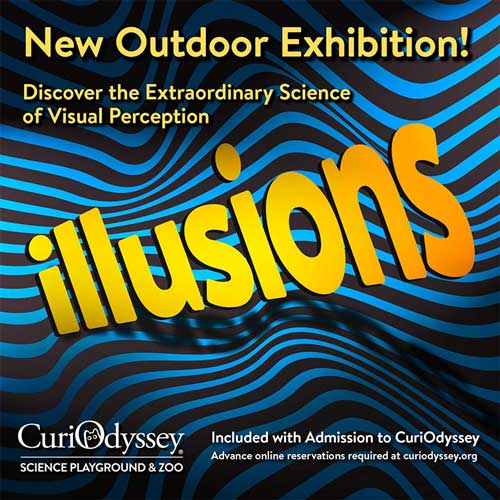 CuriOdyssey's Illusions - An Outdoor Exhibition
Discover the Extraordinary Science of Visual Perception
Open Now | Tuesday – Sunday, 10am-5:30pm
Included with Admission to CuriOdyssey | Advance Online Reservation Recommended
Explore the wonder of visual perception with CuriOdyssey's new outdoor exhibition, Illusions. Observe phenomena in color, patterns and position that will mesmerize, transfix and make you question your visual sense and perception of reality.
Experience and learn about optical illusions that include Twisted Cord, Scintillating Grid, Café Wall, Ebbinghaus, Hering, Checker Shadow, Shake Your Head, Illusory Motion, Divergent Perspective, Peripheral Drift, Bezold Effect, Color Context, Turning the Tables, Ponzo, Müller-Lyer and Rotating Rings.
This new outdoor exhibition is included in admission to CuriOdyssey beginning July 1, 2020. Advance online reservations and new visitor precautions are recommended.
Please make your timed ticket entry reservations and purchase tickets here!
Join the CuriOdyssey Community