AT-HOME SCIENCE ACTIVITIES
Sound travels in fascinating ways! Create your own sound on a string and hear how sound travels through all kinds of objects.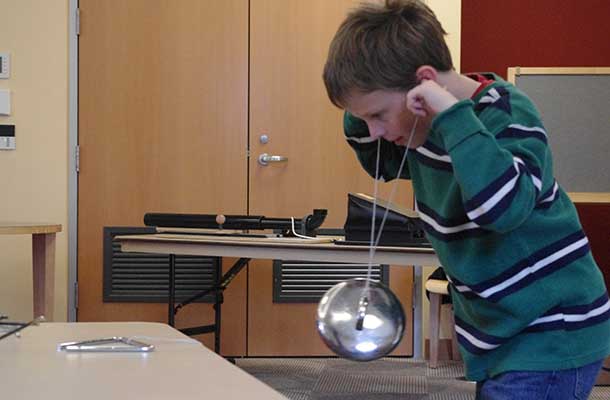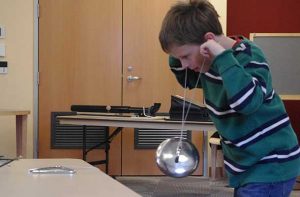 GATHER THIS:
Miscellaneous metal objects (different sizes and shapes – silverware, kitchen utensils, tools)
About 1 yard of string per object
THEN DO THIS:
Tie a small loop, large enough to put a finger through, in each end of the string.
Tie a metal object to the center of each string.
Place one loop on each index finger.
Put your fingers in your ears.
Lean forward slightly so that the metal object hangs freely.
Have another person gently strike the metal object with something hard, or make the suspended object strike a table.
ASK THIS:
Strike the metal object against a different kind of surface?
Make the string longer? Or shorter?
Try a differently shaped metal object?
Strike the metal object against a surface more rapidly?
What other ways can you think of to experiment with this activity?
WHAT IS HAPPENING?
Vibration is transmitted up the string and directly into your ear. This direct path makes the sound much louder and clearer than normal because the sound does not dissipate in the surrounding air.
Join the CuriOdyssey Community