SCIENCE EXPERIMENTS FOR KIDS
Here's a science experiment for kids that will take their breath away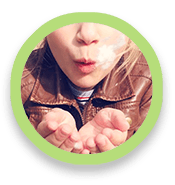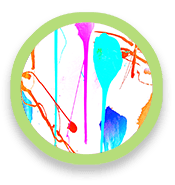 This animal is not on exhibit in the habitats. It is one of our Animal Ambassadors and is used in public and school programs.
Breathing. Everybody does it! We need it to provide oxygen for our bodies. We also blow out air to inflate balloons and give flight to dandelions.
In this experiment, kids will use straws to blow different consistencies of paint across paper to observe and investigate air, inertia and the properties of liquids. And create a one-of-a-kind work of art in the process!
GATHER THIS:
Straws
Tempera paint
Cups or bowls
Water
Eyedropper or small spoons
Heavy paper or cardstock
THEN DO THIS:
Pour tempera paint into 2 or 3 different cups and dilute with water to varying consistencies: Thick, medium and very watery.
Use an eyedropper or small spoon to place a little bit of each of the three paint samples onto your paper.
Use a straw to carefully blow paint in different directions to create an interesting design.
Now, take a breath and admire your creation!
ASK THIS:
Is it harder or easier to make the paint move when it's more diluted? Less diluted?
What happens to the color of the paint when you dilute it and blow it across paper?
What would happen if you used different size straws?
WHAT IS HAPPENING?
By pushing and pulling air through the straws, kids are experiment with air pressure to make paint move or change direction.
WHAT THIS TEACHES:
Skills: Fine motor skills, observation, scientific method
Themes: Forces, viscosity, inertia
Join the CuriOdyssey Community