SCIENCE EXPERIMENTS FOR KIDS
This eggs-cellent technique is to dye for!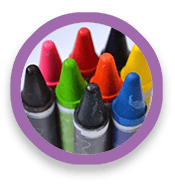 This animal is not on exhibit in the habitats. It is one of our Animal Ambassadors and is used in public and school programs.
Incorporate some chemistry into your egg dyeing with this twist on a classic spring activity. (Not to mention the wonderful egg salad you can enjoy afterward.)
The properties of wax crayons and water-based paints and dyes create beautiful effects on eggs or paper. Your child won't be able to resist it!
GATHER THIS:
Hardboiled eggs (room temperature)
Food safe egg dyes in mugs or glass jars
Crayons
Spoons
Clean rag for spills or drying eggs
Egg-free option: instead of eggs and dyes, use cardstock and watercolor paint
THEN DO THIS:
Draw or write on an egg with a crayon. Try different colors, including white. (tip: press hard to make marks that show up well)
Use a spoon to slowly lower an egg into a dye bath. What do you think will happen to your drawing?
Wait a few minutes. Remove the egg from the dye. Can you still see your drawing?
Let dye air dry or pat dry with a clean cloth.
Color on the egg again and dip it in another color, if desired.
If you're doing this activity as an egg-free option, try other drawing tools like markers, pastels, or colored pencils in addition to crayons.
ASK THIS:
How does the egg shell feel? What is the texture of the crayon?
What do you predict will happen to the wax drawing when it is dipped in dye?
To which surface does the dye stick more easily? How can you tell?
WHAT IS HAPPENING?
Dyes and watercolor paints are mostly made of water, which clings to egg shells and paper. They do not adhere as easily to wax or oil.  Wax, an organic chemical, is hydrophobic ("afraid of water"). The hydrophobicity of a substance refers to the degree to which water forms beads or spreads out over the surface. When you color on an egg with a crayon before dipping it in dye, the wax protects the egg shell so the color in the dye cannot stick to that area.
WHAT THIS TEACHES:
Skills: Observation, fine motor control, making predictions
Themes: Chemistry, properties of water, color mixing
Join the CuriOdyssey Community