SCIENCE EXPERIMENTS FOR KIDS
Make a bouncing ball in this science experiment you can do at home.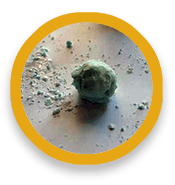 Grade level: kindergarten and older (with help from a grown-up)
GATHER THIS:
borax
cornstarch
white glue, blue or clear school glue
warm water
food coloring (optional)
measuring spoons
spoon or craft stick for stirring
two small cups for mixing
marking pen
timer
seal-able baggie
THEN DO THIS:
Label one cup "Borax Mix" and the other cup "Ball."
Pour two tablespoons of warm water and a half of a teaspoon of borax powder into the cup labeled "Borax Mix."
Stir the mixture to completely dissolve the borax.
Add food coloring to color the solution.
Pour one tablespoon of glue into the cup labeled "Ball" Add 1/2 teaspoon of the borax solution you just made and 1 tablespoon of cornstarch. Do not stir.
Allow the ingredients to interact on their own for 10-15 seconds and then stir them together to fully mix. Once the mixture becomes impossible to stir, take it out of the cup and start molding the ball with your hands.
The ball will start out sticky, but it will solidify as you knead it more.
Once the ball becomes less sticky, bounce it!
You can store your plastic ball in a sealed bag when you are finished playing with it.
Once you are finished, make sure that you thoroughly clean your hands of the mixture.
ASK THIS:
What happens if you make a few differently sized balls? Does the size of the ball affect how the balls bounce?
What happens if you experiment with the ratio of glue, cornstarch and borax? Does more or less cornstarch affect the way the mixture bends or how it is molded?
What happens if you add more glue or more borax? What about when you use less?
Join the CuriOdyssey Community