Animals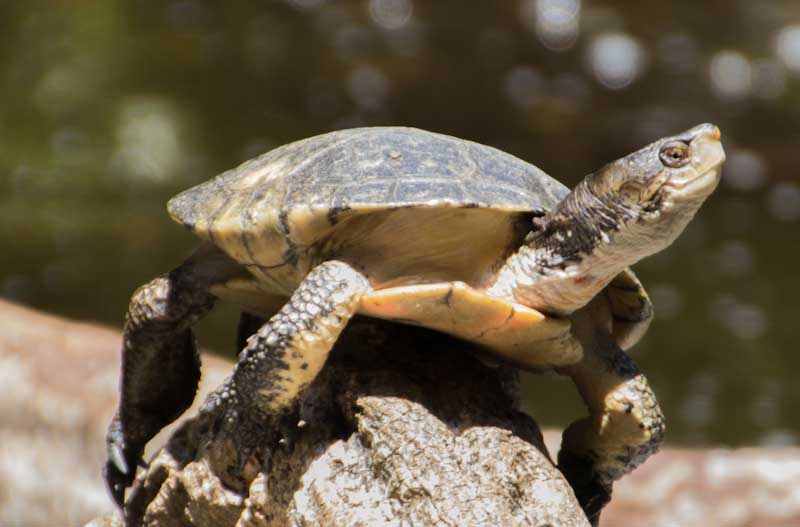 This animal is not on exhibit in the habitats. It is one of our Animal Ambassadors and is used in public and school programs.
Latin Name
Actinemys marmorata
History at CuriOdyssey
CuriOdyssey houses five western pond turtles. One was found with a fish hook in his mouth and has trouble with movement of left front leg. He was donated in October 1997.  A second turtle was surrendered to Humane Society of Santa Clara Valley and is non-releasable due to lack of knowledge of collection site. He was donated to CuriOdyssey in June 1999. A third turtle had been placed in a pen with red-eared sliders so California Fish and Game declared him unreleasable. He was donated in November 1999.
A fourth turtle was taken to Lindsay Wildlife Museum after finders tried to sell it to a pet store, and was deemed non-releasable because it hat been housed with sliders. She was donated to CuriOdyssey in Oct. 2012. Our fifth turtle was taken out of the wild by a well-meaning citizen, and is non-releasable due to being in captivity. She arrived at CuriOdyssey in July 2015.
Fun Facts about Western Pond Turtles
Western pond turtles, also known as Pacific pond turtles, in northern regions of their range, appear to hibernate on the bottom of ponds in winter months. In southern regions they remain active year round.
What do Pond Turtles eat?
Western pond turtles consume pods of yellow lily, water plants, insects, fish, worms, crustaceans, and carrion. At CuriOdyssey, they are served smelt, aquatic plants and algae, worms, turtle pellets.
How long do Pond Turtles live?
In the Wild: up to 40 years
In Captivity: 50-70 years
Where do Pond Turtles live?
Western pond turtle's habitats includes ponds, marshes, and streams, often seen basking on logs and mud banks. They range from Southwestern British Columbia to northwestern Baja California.
Conservation Status:
The U.S. Fish & Wildlife consider the Western pond turtle a species of special concern, and California state law protects them. The northern populations have virtually disappeared in some ranges.
Adopt me!
Your contribution helps provide my food, toys, and medical care. I'll stay at the museum, and you'll get a photo of me and a certificate as reminders of your generosity. Check out our adoption section and see all of our adoption levels.
Join the CuriOdyssey Community