Great Horned Owl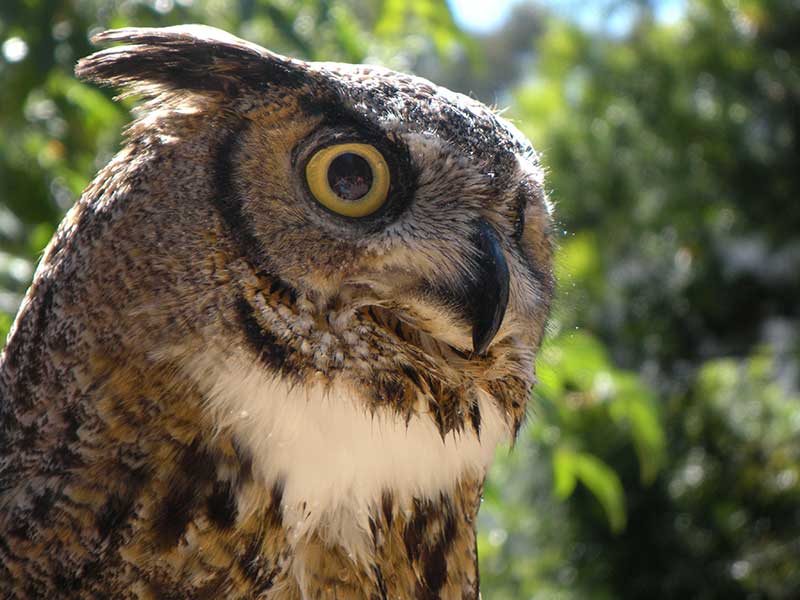 Adopt Me!
Adopt me! Your contribution helps provide my food, toys, and medical care. I'll stay at the museum, and you'll get a photo of me and a certificate as reminders of your generosity. Check out our adoption section and see all of our adoption levels.
Great Horned Owl
Bubo virginianus
This animal is not on exhibit in the habitats. It is an Animal Ambassador and is used in public and school programs.
History
She was found on the ground in the East Bay and was taken to the Lindsey Wildlife Museum Rehabilitation Center. When they examined her they noticed that she was missing half of her left wing. Although part of the wing was missing it had healed completely and she had no other injuries. Because the wing had a clean break it was assumed that the injury was caused by a car or power line. She was transferred to us in November 1995 and placed in the education collection.
Fun Facts
She enjoys getting baths on hot days and will even let keepers water her with a hose or stand under a sprinkler to cool off.
Birth Date
Unknown.
Wild Diet
Anything that is small enough for them to kill, including rodents, rabbits, snakes, baby raccoons, and skunks.
Museum Diet
Mice, rats, chicks, quail, and rabbit.
Life Span
In the Wild: Up to 14 years.
In Captivity: 30 to 40 years, the oldest recorded is 50.
Habitat
This owl will inhabit almost any type of environment from dense forests, plains, and deserts to city parks.
Range
North and South America.
Conservation Status:
Great Horned Owls have no special status, although they are protected under the U.S. Migratory Bird Treaty Act.