Blog
National Zookeeper Week (NZKW), July 18-24, focuses on the need to protect and preserve our wildlife and vanishing habitats via conservation while celebrating the animal keeper's essential role as both educator and wildlife ambassador. During the third week of July each year, we recognize and highlight how great animal care and conservation efforts require great teamwork.
Zookeepers inspire people to care about animals and conservation. Every species has a compelling story to tell, and keepers share these natural histories with visitors. Animal care requires patience and a willingness to keep learning. From large to small, reptiles like rattlesnakes to felines such as bobcats, this line of work can be demanding and much of a zookeeper's job takes place behind the scenes. They work closely with the zoo's veterinary staff to monitor animal health and are responsible for the creatures in their care during many stages of their lives.
In case you were curious, Representative Susan A. Davis actually introduced Zookeeper Week as a House Resolution (509) on June 21, 2007, which states:
"Expresses support for the goals and ideals of National Zookeeper Week. Recognizes the contributions zookeepers make to the care and conservation of captive exotic animals and to research, public education, and recreation. Expresses a renewed dedication to the appreciation and preservation of animal wildlife and nature and an invigorated effort to foster conservation projects and increase awareness of the need for preservation."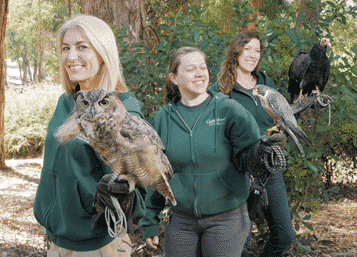 Let's take the week as an opportunity to learn about what it means to be a zookeeper! The NZKW Program team has created a social media campaign aimed at engaging and connecting AAZK's followers across the country.
Thank you Nikii, Jen, Carmen, Carrie, Claudia, Aubree, Melissa, RoseMarie & Dr. Kate. If you see our keepers around this week, please take a moment to show your gratitude for all their hard work and dedication.
Join the CuriOdyssey Community