Blog
Genentech Volunteers Remove Invasive Plant
Fifteen volunteers from Genentech spent over two hours working with CuriOdyssey to remove invasive species from Coyote Point Park.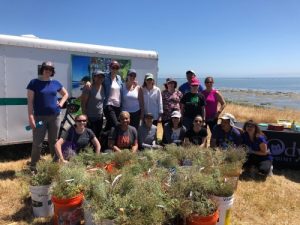 Demonstrating dedication to their community, Genentech volunteers joined CuriOdyssey Science Educator Cat B. Wednesday, June 15, 2018 to take on a well-known threat to native species: LIRA. Limonium ramosissimum, or LIRA, plant removal has been a focus at CuriOdyssey as a part of the Coyote Point Marsh Restoration Project. Thanks to the help of these volunteers, an impressive 200 gallons of invasive LIRA was removed from the marsh area.
As a treat, Keeper Jen G. brought down Scooter the Turkey Vulture to mingle with volunteers. Thanks everyone!

#CuriOdyssey #Genentech #Volunteers #Conservation
Join the CuriOdyssey Community