Blog
CuriOdyssey Conservation Projects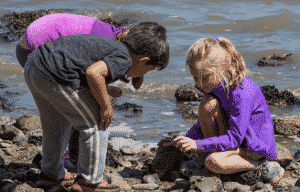 November 2017
This was a great year for conservation work at CuriOdyssey! CuriOdyssey's conservation programs focus on issues that impact San Mateo County and, more broadly, the native California animals that reside here. We accomplish this through a variety of projects, including habitat restoration, research, citizen science projects, and captive breeding.
HABITAT RESTORATION AND RESEARCH
Bay Area saltmarshes are threatened by the presence of invasive plants, such as LIRA, that outcompete native plants like pickleweed. CuriOdyssey leads volunteer projects to remove LIRA in the marsh at Coyote Point. CuriOdyssey also conducts original science research that will help inform LIRA removal management practices throughout the bay.
AZA SAFE PROGRAM
As an accredited Association of Zoos and Aquarium facility, CuriOdyssey participates in the AZA's SAFE (Saving Animals From Extinction) program. Each year new species are unveiled with a concentrated effort by zoos and aquariums in the U.S. to preserve and protect those species in the wild as well as in Captivity. CuriOdyssey's western pond turtle was one of the first species unveiled in 2015.
BAY AREA FROGWATCH
CuriOdyssey is home to the Bay Area FrogWatch chapter, a program by FrogWatch USA and adopted by the AZA with the aim of monitoring frog and toad populations. We started the sixth season of this citizen science project with a good turnout of new volunteers. The Bay Area chapter monitors our 6 local species that include the Pacific treefrog, red- legged frog and western toad.
CONSERVATION RESEARCH AND PROJECTS
We also continued our partnership with several organizations that help the wild counterparts of animals we take care of at CuriOdyssey. These organizations include Felidae Conservation Fund's Bay Area Bobcat Study, Pond Turtle Ecology and Conservation Research, Ringtail Research Study, Urban Wildlife Research Project on Gray Foxes, and the River Otter Ecology Project. CuriOdyssey also initiated a new partnership this year with U.C. Berkeley's Urban Bee Lab to help local bee populations.
SUSTAINABILITY AND CLEANUPS
CuriOdyssey is dedicated to making our facility more environmentally friendly. We aim to reduce consumption, recycle and compost, and source locally whenever possible. We also partner with Coyote Point Park rangers to organize multiple beach and park cleanups each year.
These conservation projects are examples of the many ways in which CuriOdyssey helps to connect people to the natural world. We are excited to continue and look forward to new projects in the coming year. Your donations help us continue this important work.
#CuriOdyssey #SciencePwr
Join the CuriOdyssey Community