Past Exhibit
This past exhibit is now closed.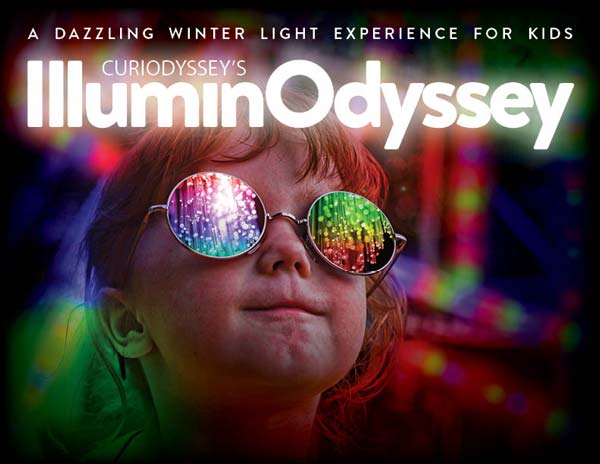 CuriOdyssey's IlluminOdyssey – A Dazzling Winter Light Experience for Kids
Open Through January 5, Tuesdays-Sundays, 10am-4:45pm
Special Hours: 12/31 10am-3pm  |  Closed 1/1  |  1/3 10am-8pm
Electrify your child's imagination at CuriOdyssey's IlluminOdyssey, a spectacular winter light experience for kids. Play with light as four floors of walls, floor and ceiling come alive with radiant, moving color.
Carry a colorful lantern with you as you explore a world of luminescent wonder.
Venture through a gleaming jungle of soft sculptures
Explore under an illuminated canopy of fiber optic strands.
Create a refractive rainbow at the tip of a wand.
Touch a plasma ball to create colorful electric tendrils.
Use a drawing robot to design a phosphorescent image.
Dance on swirling patterns of brilliant colors.
Watch the mesmerizing motion of a glowing blossom and change its appearance.
Wander inside a village of lustrous, geometric shelters awash in laser lights.
Experience the wonder, beauty and excitement of CuriOdyssey's IlluminOdyssey, open November 9 through January 5.
Join the CuriOdyssey Community