Camps & Classes
Afterschool Outdoor Adventures
Being outside has shown to be an engaging way for children to learn and connect to nature at the same time. Outdoor learning has a myriad of academic, health and social benefits and in this time of COVID-19, reduces stress and anxiety in some children.
Coupled with CuriOdyssey's student driven approach to learning, we believe that content knowledge and skills are amplified when taught outdoors, including understanding the impact of human interactions on the climate and empathy for living organisms in the natural world.
Outdoor Adventures is an in-person, outdoor learning program using the health and safety guidelines taken from the CDC, State and County Health organizations to protect all its participants. We embrace the weather as part of our learning experience and will conduct this program rain or shine.  In the event that weather and/or climate conditions make it unhealthy or unsafe to meet outdoors the class may switch to a virtual lesson or be cancelled
Fall 2020 Sessions & Themes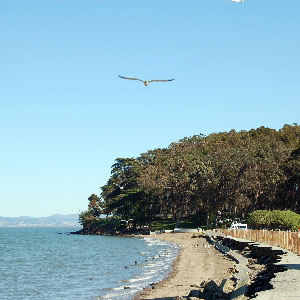 Adventure Quest
October 7 – November 4, 2020
This afterschool session fosters what kids do naturally, explore, discover and play.  There is plenty of science in play, such as walking on a slackline, slingshots and rock skipping.  We will have ample time to explore Coyote Point Park and find adventures at the beach and marsh.  A great opportunity to get away from the computer screen and have an outdoor learning adventure.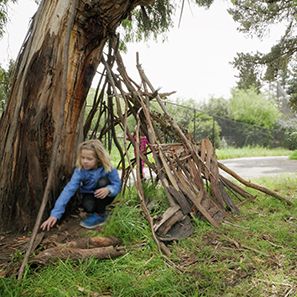 Outdoor Engineering
November 11 - December 16, 2020  (No class 11/25)
How do trees stay upright, birds build nests, or rock patterns form?  There are multiple examples of how natural engineering.  Students explore outside at Coyote Point Park for inspiration as they become engineers to build a castle to survive the incoming tide, construct a stick fort to hold up to the winter weather, and design a catapult out of natural materials.  This session is sure to challenge your young tinkerers!
Program Information:
Class Days: Wednesdays
Class time: 2:00 pm–4:00 pm
Location: CuriOdyssey
Fee: Member: $169/session
Non-Member: $209/session
Join the CuriOdyssey Community