PUBLICATIONS
SUPPORTING SCIENCE EDUCATION
CuriOdyssey in the Classroom: Teaching the Teachers
In March 2018, CuriOdyssey launched the Teacher Training Pilot Program. Supported by Genentech in partnership with the San Mateo County Office of Education, this program was created as a science learning model to give teachers increased competence, confidence, comfort and capacity to meet Next Generation Science Standards (NGSS), a state-mandated means of improving science education. The goal of the pilot is for teachers to provide students with inquire-based science education that will improve learning outcomes and help compensate for shortfalls in science education.
The program design was given considerable thought. First, we focused on LEAD and Fiesta Gardens Elementary schools, with which we have had successful, long-standing relationships. Next, from a survey of teachers that measured their perceived ideas on preparedness and the need for professional development in science instruction, we learned:
Teachers ability and available time to teach science was LOW

Teachers belief that CuriOdyssey's impact and influence on teaching science was HIGH
On the day of the professional development session, fifty-one teachers came to CuriOdyssey. They spent the first half of the day with Director of Education and two of our professional educators, engaged in two hands-on team activities – building bridges and making wind-powered cars. During discussion and reflection periods following, teachers expressed a sense of surprise and wonder that these fun and collaborative activities focusing on dimensions of scientific and engineering practices were actually NGSS in action!
A follow-up survey suggested that the teachers found the program extremely helpful:
Teachers rated themselves on the outcomes of their hand-on science activities as EXCELLENT or GOOD

Teachers stated that integrating science into their curriculum was their HIGHEST priority
One teacher posted the following comment:
"Thank you for...planning a day during which we can be vulnerable & honest about our lack of knowledge of this content area."
The pilot program offered the Education team keen insight into the difficulties teachers are facing. Teachers vary greatly in their knowledge and comfort level in complying with NGSS, and, with their already highly impacted schedules, they are understandably concerned about the time it will take to teach a science curriculum. The challenge is to provide science learning opportunities that do not circumvent the thought process, that engage the student, and that teachers can and will use.
Building on the success of this pilot program, the Education team are already planning the next professional development session. A priority will be to work with teachers to help them incorporate science into existing English and math curricula, by connecting, modifying and expanding on what they are already doing. To make headway in how science is taught and ensure that it IS taught, we will develop mentoring relationships with teachers to help support, encourage and guide them throughout the year, not just one day. These mentoring relationships will have a profound effect on the outcome of our program for teachers and for students.
We are optimistic about how the program is progressing and have received praise from the participants, who are looking forward to what comes next. To this end, we will meet with the school principals and prepare another teacher survey to find out how they are doing since the first professional learning event. This will guide our agenda for the next program.
We shared the outcomes of our first session with Genentech. They were impressed and asked CuriOdyssey to submit a second grant request in support of the Teacher Training Pilot Program. As the program evolves, we hope that it will serve as a model for other schools, helping teachers gain an understanding of and comfort with Next Generation Science Standards and students the skills and knowledge they need to be science-literate citizens, prepared for college and careers in a rapidly changing world.
"This is the way professional development should be done."
— Pattie Dullea, LEAD Elementary School Principal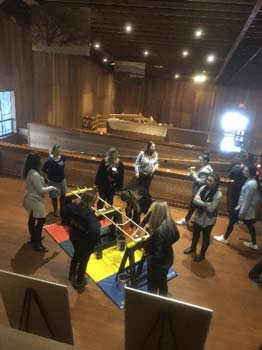 Teachers from LEAD and Fiesta Gardens elementary schools participate in high-impact, hands-on science activities much like the ones their stude 1ts experience in workshops as part of the initial session of our Teacher Training Pilot Program.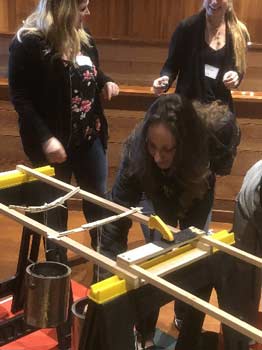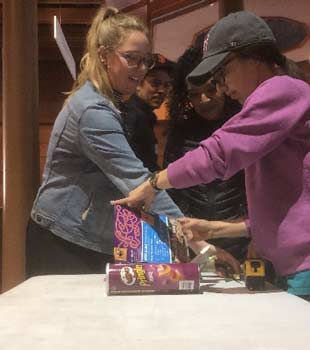 Join the CuriOdyssey Community