Get Involved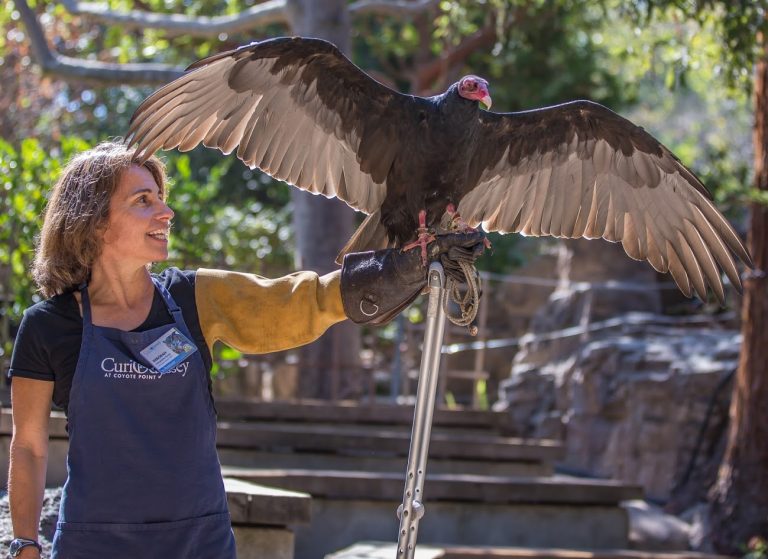 At CuriOdyssey, we recognize that volunteers are critical to our success.
Each year, more than 150 individuals ages 13 to 90 support CuriOdyssey by volunteering. There are volunteer opportunities in many areas, including: roving wildlife interpretative guides, exhibit facilitators, summer camp volunteers, and Wildlife Department assistants.
Volunteers receive many special privileges including educational opportunities, social events with other volunteers, a newsletter specifically written for volunteers, discounted family membership rate, and the knowledge that the community benefits from each volunteer's time.
Our goal is to provide enjoyable and rewarding experiences for all our dedicated volunteers. Every volunteer receives position-appropriate training and in most cases, is asked to make a significant commitment of time. Please see descriptions below for specific responsibilities, application periods and age requirements. If you complete our online application, you will be contacted with more information on positions which fit your stated interests, age range, and availability.
For other volunteer inquiries, contact our Volunteer Manager Lee Cauble at lcauble(at)curiodyssey.org or 650-340-7580.
Volunteer Opportunities
Aviary Aide
Volunteer in our beautiful walk-through Aviary and help visitors appreciate the birds and turtles who live there. Trained and supervised by our professional Animal Keepers, Aviary Aides spend one hour cleaning the walkways and then the rest of their weekly shift as an interpretive guide, engaging with visitors and helping them observe and learn more about the animals in the Aviary.
Current opening: SATURDAYS, 9 a.m.–1 p.m. (for at least 3 months). Applicants must be at least 18 years old. Position will remain open until filled. Training conducted on first day of volunteering.
TO APPLY, simply complete a volunteer application and you will be contacted with additional information.
---
Wildlife Interpretive Guide
Wildlife Interpretive Guides use biofacts and conversation to engage visitors and help them observe and learn more about the animals on exhibit. Volunteers can also be trained to handle and show some of our education animals after several months of service. Teens can volunteer when partnered with a parent.
These volunteers are required to schedule two 2-hour shifts per month for at least one year. Shifts available: 10 a.m.–12 p.m. on Wednesdays and Fridays, and between 10 a.m. and 5 p.m. on Saturdays, Sundays, and holiday Mondays.
The next annual training series will be held on three Saturdays in the fall: September 9 and 23 and October 7, 9 a.m.–1 p.m. each day (training fee applies).
TO APPLY, simply complete a volunteer application and you will be contacted with additional information.
---
Coastal Cleanup Day
Join us for a beach and park cleanup at Coyote Point Park on Saturday, September 16, 9 a.m.–12 p.m., as part of the statewide Coastal Cleanup Day. You do not need to pre-register. You may arrive and leave at any time during the 9 a.m.–12 p.m. project. We suggest wearing comfortable shoes, hat, sunscreen and layered clothing. Because the event is being co-sponsored, we are asking participants to complete and bring these release forms. Click link to download forms.
Please help reduce the environmental footprint of this event:
Bring your own bucket or reusable plastic bag.
Bring a lightweight pair of gardening gloves, instead of using disposable plastic gloves provided at Cleanup.
Bring a filled, reusable water bottle.
Use public transportation, bike, or carpool to event.
See https://www.coastal.ca.gov/publiced/ccd/byo.html for more tips.
Join the CuriOdyssey Community