Peregrine Falcon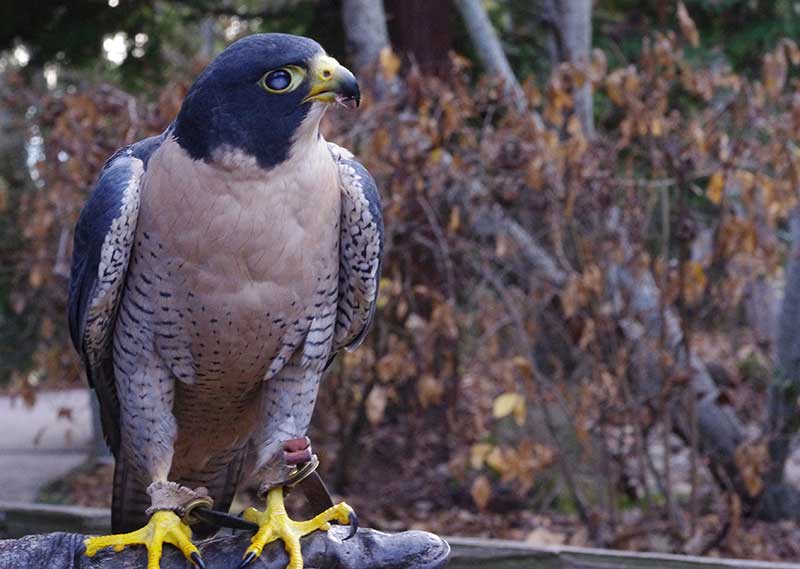 Adopt Me!
Adopt me! Your contribution helps provide my food, toys, and medical care. I'll stay at the museum, and you'll get a photo of me and a certificate as reminders of your generosity. Check out our adoption section and see all of our adoption levels.
Peregrine Falcon
Falco peregrinus
This animal is not on exhibit in the habitats. It is an Animal Ambassador and is used in public and school programs.
History
Our falcon was found as a young bird by a private citizen and taken to the Pasadena Animal Shelter. Although the bird was taken care of, he was never flown or taught how to hunt. The shelter finally called the Ojai Raptor Center (ORC) to take him in 2005. Once at the ORC, he was placed with an experienced falconer who would condition him to fly and hunt. In 2007, right before he was slated for release, he injured his right eye. After that he was deemed un-releasable and stayed at the rehabilitation center as an education bird. In 2011 the center decided to place him at another facility. On December 2, 2012, he came to live at CuriOdyssey.
Fun Facts
Peregrine falcons have excellent eye sight and can see a pigeon at rest from 3000 feet away.
Birth Date
Estimated 2004
Diet in the Wild
Peregrines prefer to eat birds over other food items, but they will eat anything that is small enough for them to catch and kill.
Diet at the Museum
Mice, rats, chicks, quail, occasionally guinea pig and rabbit.
Life Span
In the Wild: 12 to 16 years
In Captivity: longest on record lived to be 25 years old.
Habitat
Open rocky land, rocky coasts wooded areas, and moorland.
Range
Found on every continent except Antarctica.
Conservation Status:
They were taken off the Threatened Species list in 2009, although they are still protected under Migratory Bird Treaty Act.